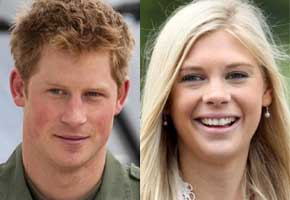 While the press has been anxiously pining for Prince Harry to sync up with Pippa Middleton, The Daily Mirror is claiming that he's once again taken up with his on- and off-again girlfriend Chelsy Davy.
The pair, who called it quits in 2009, were recently spotted having dinner together in London. The Mirror has snaps of the two outside her flat.
"Harry may act like a joker, but he's serious about Chelsy," said a source. "Seeing William settle down has had a big impact on him and made him think more about his own future. He realizes the bond he has with her is too good to just throw away."
During Prince William and Kate Middleton royal wedding reception, Harry apparently whispered to Chelsy that she could be next to walk down the aisle. But the South African-beauty has allegedly said that a life of royalty isn't in the cards, as she wants to focus on her law career.
In other royal wedding-related news:
• Seychelles police commissioner Ernest Quatre claims the Duke and Duchess of Cambridge will be "protected" during their honeymoon on the island nation. "We can't go into specific details of the operation for obvious reasons, but this is something that we have been preparing for some time. The arrangements for the honeymoon were made well in advance during talks from government to government. We obviously know that security, and in particular privacy, are important to the couple and we will do all that we can to ensure they are safe and happy." The Palace, of course, has not confirmed that the couple is in the Seychelles to begin with. (The Daily Express)
• Cluny Lace, a company in Derbyshire, England, was "shocked" to learn that their material was used in Kate Middleton's wedding gown, only discovering the fact after dress details were released. "On the bride's dress it was used on the underskirt and some of our motifs were used on the train," Cluny sales manager Kate Knight tells BBC News. Cluny Lace was established in the 1760s.
• To nurse her wounds over the royal wedding snub, Sarah Ferguson dashed off to a $1,000-a-night spa in Thailand, the Kamalaya Wellness Sanctuary on Samui. A spa employee denied reports that Ferguson "spent her holiday sulking." (AP via CBS News)
• Olympic gold medal swimmer Ian Thorpe, a.k.a. "the Thorpedo," was among the 1,900 guests at the royal wedding. Now he wants to return the favor to William and Kate, inviting the pair to watch him compete at next year's London Olympics. "I'm pretty sure William and his wife will be watching a lot of the Games next year but it would be nice to invite them to my gig!" he tells The Sun.
• With the world still chattering away about her cousin's royal wedding, Zara Phillips is fast at work on her upcoming nuptials. She and English rugby player Mike Tindall will wed in Edinburgh on July 30 and Prince William and Kate Middleton are expected to attend. But with their presence, proper security measures are being amped up now so that Phillips and Tindall's big day can remain a special and private one. (The Daily Mail)
• When hosting the London Press Club Awards on Wednesday (May 11), Camilla, the Duchess of Cornwall spoke to a crowd journalists while praising the freedom of expression. "I believe passionately in freedom of expression," she said. "I believe that freedom of expression – so long as it doesn't contravene the law, or offend others – to be at the heart of our democratic system."
She added: "But just one note of caution: in our right to speak freely, please let us not become too politically correct, because surely political correctness is as severe a form of censorship as any." (The Daily Express)
• Leave it to South Park to have a royal wedding where Bryan Adams and two-hit wonder Corey Hart are guests. In Wednesday night's (May 11) "Royal Pudding" episode, the Prince and Princess of Canada, who obviously resemble the new Duke and Duchess of Cambridge, pledged their love at the very psychedelic-looking abbey. But the event didn't go off without a number of hitches. Here's a quick highlight: