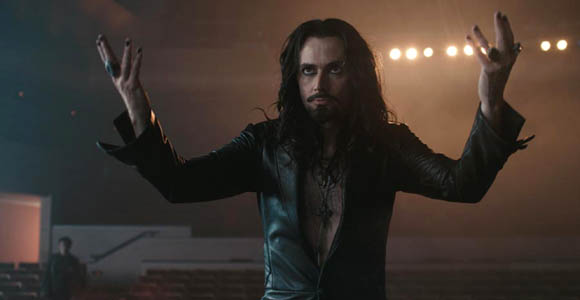 Last fall, we got our first glimpse of David Tennant as the Las Vegas magician Peter Vincent in Craig Gillespie's upcoming 3-D remake, Fright Night. And now thanks to Cinema Blend, we get a much closer look at the former Doctor Who star in all his gothed-out glory. Lookin' good there, Dave.
Out nationwide on August 19, Fright Night is based on Tom Holland's 1985 horror classic of the same name. The film features Anton Yelchin as teenager Charley Brewster and Colin Farrell plays his neighbor, vampire Jerry Dandridge. Brewster suspects Dandridge is a murderer and seeks out Vincent's supernatural talents to learn more about him. Toni Collette, Imogen Poots (Christopher and His Kind, Jane Eyre) and Christopher Mintz-Plasse (Kick-Ass, Superbad) also star.
What do you think about the new David Tennant Fright Night photo? Tell us here.
Read More
Filed Under: