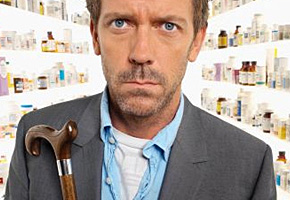 House fans, you might want to cherish every new episode you can clap your peepers on from here on in, because if Hugh Laurie is to be believed, there may not be many more.
Hugh has been explaining to the Radio Times that the current, eighth season of the hit show, could well be his last, and of course if there's no House in House, there's no House.
He said: "The end of that season looks like the end of the show. That's as far as they've got me for."
After that? Well there's his burgeoning music career, of course. His album "Let Them Talk" was released yesterday, to a very positive reception. But surely he'd miss the hurly-burly and excitement of working on a huge TV show?
Seems not: "I wouldn't say that doing the series has made my marriage easier. Better? I don't know about that either."
The good-ish news is that IF Hugh should leave, it won't be one of those nice series ending episodes where all the loose ends get tied up and everyone hugs, as Hugh explains: "I'd like to go out with a bang, not a whimper."
How about a bang THEN a wimper? Now you're talking…
Will you miss House? Tell us here.
Read More
Filed Under: