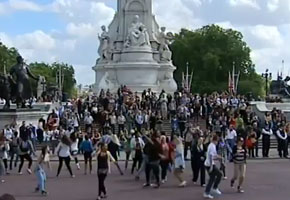 Out of nowhere today (May 9), a flashmob regaled onlookers at Buckingham Palace with a performance celebrating the royal wedding. More than 100 dancers, most of whom were students, twisted and twirled outside the palace gates to the strains of Queen's "We Will Rock You," Michael Jackson's "Wanna Be Startin' Somethin'," and the Robin S. dance classic "Show Me Love." However, this was no spontaneous event: the palace itself planned the occasion to honor young people in the performing arts. Have a look at some video:
http://www.youtube.com/watch?v=-4QQFKS0Sak
In other royal wedding-related news:
• Whether you love or hate it, Princess Beatrice's much-talked about Philip Treacy hat has become quite the fashion phenomenon. A German cupcake company called Wir Machen Cupcakes has created their very own tasty treat dedicated to the astonishing headpiece worn by Prince Andrew's oldest daughter at William and Kate's royal nuptials on April 29. It's a serious work of art, isn't it?
• In addition to his various charitable commitments, Prince Charles is an avid hunter and an accomplished polo player, as well as a passionate collector of prized automobile — the sparkling navy Aston Martin driven by Will and Kate belongs to him. But who knew that the Prince of Wales was a wannabe maestro? According to the London Evening Standard, Charles discusses his love of conducting in an upcoming BBC4 documentary on English composer Hubert Parry. He also elaborates on his recent stint with the London Philharmonia, where he tested his baton skills for a one-off performance of Richard Wagner's "Siegfried Idyll." Such an occasion was set up as a special early surprise for his wife Camilla, the Duchess of Cornwall's birthday. She turns 64 in July.
• Forget all the 'oohing' and 'aahing' over the luxurious gowns and ostentatious hats. When Prince William chauffeured his bride from Buckingham Palace to Clarence House in Daddy's Aston Martin, gearheads were salivating. On May 21, the Bonhams auction house is selling two DB6 convertibles that are nearly identical to the one owned by Prince Charles. (If you're in the market for royal wheels, you can expect to shell out $411,000. Each.)  (San Francisco Chronicle)
• While Prince William already has three godchildren, it sounds like he could get a fourth. The Sunday Mirror reports that David Beckham is eyeing Wills to be the godfather of his and Victoria 's baby girl. The royal newlyweds will be visiting California in mid-July, which is around the same time that Victoria is expected to deliver.
• Last week, Prince William and his RAF team came to the aid of a 70-year-old retired judge who suffered a heart attack on a mountain in Snowdonia, Wales. Well, today, Nick Barnett offers his thanks to the crew and details the story of his royal rescue: "As I was being stretchered away from the aircraft I saw one of the pilots on the right-hand side looking at me and I gave him the OK sign with my hand," he tells BBC News. "He acknowledged me. Whether it was the prince I don't know. I didn't know he was aboard the aircraft until a nurse whispered to me in the emergency department that Prince William was on the helicopter. I didn't set out to be rescued by Prince William. I'd planned a nice day on the hills and to have a nice pint of beer in Betws y Coed where we were staying. Family and friends are all stunned by who saved me."
Read More
Filed Under: