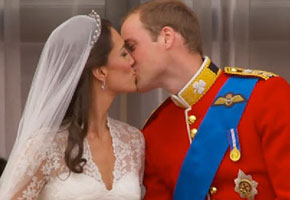 After days of rumors, today (May 5) St James's Palace has confirmed that William and Kate will make a three-day jaunt to California after their week-long official tour of Canada this summer. The Duke and Duchess of Cambridge will visit the Golden State from July 8-10, with former "Governator" Arnold Schwarzenegger expected to host them, The Daily Telegraph reports.
For William, this will be his first trip to the States in an official capacity, but for Kate, it will be her first time setting foot on American soil. No itinerary has been released, but might we see the Duchess photographed scarfing down fries from In-N-Out Burger? Recreating the famous Travolta-Diana dance with, say, Zac Efron?
In other royal wedding related news:
• As we mentioned yesterday (May 4), Prince Charles has been in Washington, D.C. this week, where he visited with U.S. President Barack Obama and more. During his two-day stay, the Prince of Wales addressed the importance of sustainable farming and was the keynote speaker at Georgetown University's Future of Food conference. Here's a look at his speech:
• Now that his royal wedding duties are officially done, Prince Harry is getting back to work like his older brother, who returned to his Royal Air Force post in Anglesey, North Wales this week. The East Anglian Daily Times reports that the 26-year-old ginger prince has resumed training with the Army Air Corps at the Wattisham Flying Station, just outside Suffolk, England. He'll be based there for eight months in order to master the Apache attack helicopters.
• Raise your glasses, royal readers. The British Monarchy is apparently looking to make their very own bubbly. According to The Daily Mail, more than 16,000 vines are likely to be planted at Windsor Great Park in the next week or so, with Pinot Noir and Chardonnay grapes currently on tap for the upcoming English sparkling wine. By the time the vineyard comes to fruition, perhaps another royal wedding will be on the calendar?
• Following Lifetime's rushed and modestly reviewed William and Kate film, the Hallmark Channel is betting on some highly respected (and mostly American) talent for its TV-movie, William & Catherine: A Royal Romance. TV and Broadway star Victor Garber (Alias) will play Prince Charles, with three-time Emmy winner Jean Smart (Designing Women, Samantha Who?, 24) portraying the Duchess of Cornwall. Meanwhile, Jane Alexander, a four-time Oscar nominee, will play Queen Elizabeth II. Relative unknowns Dan Amboyer and Alice St. Clair will play William and Kate. Shooting has already started in Budapest, with Linda Yellen and Brad Krevoy executive-producing. William & Catherine: A Royal Romance is set for an August 27 premiere.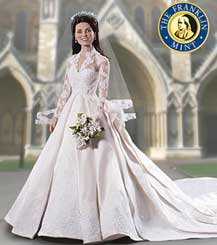 • While we're still basking in the gorgeousness of Kate's gown designed by Sarah Burton for Alexander McQueen (check out the official wedding photos here), Franklin Mint has their Kate Middleton Royal Bridal Doll ready at last. If you remember, they debuted the engagement version in March for a pretty $195 (£120). That and the new royal wedding doll can be yours for a combined price of $490 (£298). Or should you only fancy the royal one that's set to ship this summer, it stands at $295 (£180).
Read More
Filed Under: