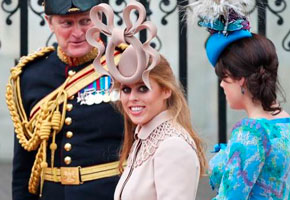 The wreath-like hat Princess Beatrice wore to Friday's (April 29) royal wedding continues to be an Internet punchline. (In the shadow of Beatrice's ridiculous headgear, Princess Eugenie's feather-topped blue fascinator has barely registered.) But designer Philip Treacy has leaped to the defense of his creations, telling HollywoodLife.com that the sisters left the design of the hats up to him. "No, they didn't tell me [what they wanted] because I've known them for a long time and I wanted them to look gorgeous and beautiful. They trusted me to make them. Gorgeous and beautiful can be open to interpretation… I thought they looked gorgeous and beautiful. But no one is crying if anyone didn't."
In other royal wedding related news:
• Scent of a Duchess: after Clarence House announced that Kate Middleton wore White Gardenia Petals perfume on her wedding day, demand for the fragrance soared. There's now a two-week waiting list to order a $115 50-mL bottle. "There's been a phenomenal response across the world," says Michael Donovan, spokesman for the British perfume brand Illuminum. "Orders have come in from dozens of different countries, but most of our customers have come from the U.S. 'It's charming to think that so many people abroad are interested in the wedding." (The Daily Mail)
• Prince William categorically denies claims that he invited a FIFA member to the royal wedding to boost England's chances of hosting the World Cup in 2018. Nicolas Leoz, the Paraguayan president of South America's CONMEBOL confederation, told his native country's press that he received an invite one day before a scheduled meeting with William in Zurich on December 2. However, Clarence House spokesman Paddy Harverson says, "No one from FIFA was offered an invitation to the wedding in return for their vote, I can categorically state that." Russia was ultimately selected to be host of the 2018 tournament. (The Independent)
• After the royal wedding, support for the monarchy has jumped in the commonwealth nation of New Zealand: the royal family's approval rating in the small island nation is now at 74 percent, up from 60 percent in 2002. The New Zealand Herald also reports, "In 2005, 58 per cent expected the monarchy to be ditched, with only 29 per cent believing it would be retained. Those figures have now reversed, with only 33 per cent expecting New Zealand to become a republic within 20 years and 52 per cent expecting the monarchy to be retained."
• Blue Carreon, fashion writer for Forbes' Behind the Seams blog, compares Kate and Pippa Middleton to two style-icon siblings from another era, the glamorous Jacqueline Kennedy and Lee Radziwill. Both pairs of sisters "come from privileged backgrounds," he writes, with the older siblings both marrying high-profile figures. However, he writes, "The Middletons are more relatable and their style is within reach of most women. There are hardly any editorial stories on wearing something 'inspired by Kate' or 'get Pippa's look' when it comes to the Middletons because you can walk into Zara and buy the exact same dress they wore without leaving a huge dent in your pocketbook."
• Ever the prankster and party-boy, Prince Harry showed a deft touch with children during Friday's royal wedding. When bridesmaid Elisa Lopes, the three-year-old granddaughter of the Duchess of Cornwall, proved antsy and scared during the carriage ride from Westminster Abbey to Buckingham Palace, Harry pulled out a "wiggly worm" toy that had the tot smiling. Little Elisa liked the toy so much that she kept hold of it throughout the official wedding photo shoot. "I was so proud of her," said the Duchess. "She looked adorable in her dress and couldn't stop twirling around in it. It was such a lovely, lovely day." (The Daily Telegraph)
• Speaking of the Duchess of Cornwall, Camilla has paid special tribute to her stepson and his new bride by planting a "'Wedding Cake Tree." The Daily Mirror reveals that the "Cornus contraversa" plant, which is known for its "horizontal, tiered branches" and "star-shaped white flowers," was planted at St. Mary's Church in Tetbury, Gloucestershire on Tuesday (May 3).
• While his wife was busy getting her hands dirty, Prince Charles has been spending some time at the nation's capitol. He is scheduled to meet with U.S. President Barack Obama at The White House today (May 4), as well as make a stop at Georgetown University for a discussion on sustainable agriculture, The Wall Street Journal's Washington Wire blog reports. On Tuesday (May 3), he paid a visit to the Supreme Court, and stopped by a Capitol Hill farm which supports low-income families with healthy goods. Way to get back to work, dude.
Read More
Filed Under: