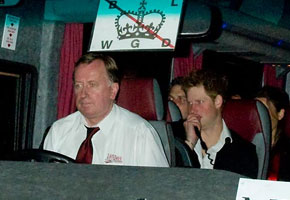 The wedding service at Westminster Abbey and the following reception at Buckingham Palace were, by all accounts, stately affairs determined by ages-old protocol. But William and Kate had a chance to let their hair down at Friday night's dinner dance, which featured a select 300 of the couple's family and friends. And, if there's any truth to the reports today, the event was a proper knees-up, complete with copious amounts of mickey-taking.
And Prince Harry, ever the trickster, stole the show with his best man speech. According to The Sun, Harry did far more than raise a champagne flute to the newlyweds. He seized the opportunity to take potshots at William's thinning pate, declaring his older brother "the Balding Baron" and re-christening the royal couple "the Duke and Duchess of Hairlosshire." Did we mention that Harry allegedly did all of this while wearing a fez? (Perhaps he's a Doctor Who fan?) According to The Daily Mail, after Harry finished his speech, he threw off his stylish headgear and stage-dived into a cheering crowd.
The evening's menu was said to include "a crayfish, crab, salmon starter and a main of Sandringham lamb with veg from the estate, followed by a mix of small puddings." As the night went on, partygoers reportedly downed charmingly named Crack Baby cocktails, "a heady concoction of vodka, passion fruit, Chambord raspberry liqueur, and champagne designed by royal favorite bar Boujis." Bet those weren't among your royal wedding party apéritifs.
As for William and Kate, they were serenaded by singer Ellie Goulding, who sang her version of Elton John's "Your Song" for the couple's first dance. The newlyweds later reportedly "brought the house down" with their own take on the Travolta/Newton John classic, "You're the One That I Want." Further proof that the royals are just like us: even they can't resist a good, cheesy Grease duet.
All in all, sounds like the kind of soirée even a dyed-in-the-wood anti-monarchist like Johnny Marr would have been proud to attend.
In other royal wedding related news:
• Might Prince William be separated from his new bride just four months after their wedding? The Sun is reporting that William, an RAF search-and-rescue pilot, will take off for the Falkland Islands for a ten-week stint starting in September. "The posting is essential for William as he will be promoted from co-pilot to pilot, putting him in charge of his aircraft," the tabloid says. Wives are not allowed to join their husbands on such missions. Some sources believe William is even trying to earn flying time for a combat role in Afghanistan, which is unlikely given his proximity to the throne. The Falklands, which are located in the South Atlantic, were the site of a 1982 military conflict between Argentina and the UK, who both claimed rights to the territory.
• The so-absurd-it's-amazing Philip Treacy hat that Princess Beatrice wore to the wedding has made her a viral star. As The Daily Mail notes, "A Facebook site entitled Princess Beatrice's Ridiculous Royal Wedding Hat had attracted 123,675 people with one person asking whether she was a new Doctor Who villain."
• Pippa Middleton's scene-stealing, body-hugging white gown attracted much attention on Friday, as did her flirtatious behavior with Prince Harry. But Kate's sister and Maid of Honor is taken. According to South Africa's Independent paper, she is dating a broker named Alex Loudon. "The couple have stayed silent about the future of their relationship for fear of detracting attention from William and Kate."
Read More
Filed Under: