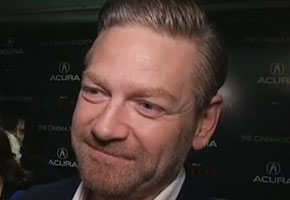 The big-budget comic book adaptation Thor has become the number one film at the international box office, putting to rest concerns that the UK's Kenneth Branagh was the wrong man to direct it.
Although it hasn't yet been released in U.S. cinemas, Thor has been bringing superheroic returns overseas where it's opened over the weekend in more than fifty countries. So far the film has taken in more than $90 million.
With his background in Shakespeare — and art-house pictures — Branagh knew many in the film industry considered him the least likely candidate for directing such a large scale Hollywood extravaganza.
But the director told me at the center of Thor is a relationship drama, which was familiar territory. Although he conceded that everything else about the film was about a hundred times the size of what he's been accustomed to.
Branagh has spent the best part of two years in Hollywood bringing the superhero project to fruition. With an estimated budget of $150 million, Thor is packed with special effects and boasts a cast that includes Sir Anthony Hopkins and Natalie Portman.
Thor, played by the Australian actor Chris Hemsworth, is the latest Marvel Comics superhero to be adapted for the big screen. The Mighty Thor, the hammer-wielding Norse god, first appeared in Marvel Comics almost fifty years ago. Branagh faced the challenge of making an entertainment inspired by an iconic character that would appeal well beyond comic book fans. He appears to have succeeded.
Before its release he said he thought his picture would engage audiences in the same way as a Shakespeare play. He commented: "Shakespeare was always interested in what it took to be a good king, a great leader, and I think Thor has that quality where the stakes are very high."
Although Thor is a big money-making endeavor, Branagh didn't find commercial pressures ever interfered with his artistry: "I felt free. I felt able to get on with it. I knew what I was joining."
In recent years his directorial efforts haven't always brought great acclaim so I asked him if he felt there was a lot riding on this film in career terms. His response was matter of fact: "I've always felt that you mark your own scorecard. I'm proud of what we've done."
Before Thor's international release this weekend, Branagh was saying that the public would decide whether or not he would ever return to Hollywood to make another big budget epic. Well judging by the response at the overseas box office the public has decided — and voted overwhelmingly in his favor.
Thor opens in US cinemas on May 6.
Tom Brook's reports on cinema can be seen every Tuesday and Thursday morning on BBC America.
Read More
Filed Under: