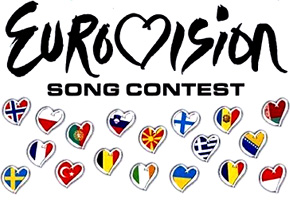 In our last roundup of Eurovision delights, we were looking at the best, most memorable performances the competition had to offer. And, actually, surprisingly few of these have been from UK entrants. I say surprising because of all the European nations — of all the Eurovision nations too — Britain has dominated the field of popular song for almost the entire time that this competition has been running. Ireland do very, very well, of course, and Sweden punch way above their weight, but we all know that the UK are supernaturally good at pop and rock music.
What's strange is that we don't tend to bother flexing that particular muscle for Eurovision.
Rather than round up Robbie Williams, or Oasis, or the Jam or the Pet Shop Boys or T.Rex or XTC or (continues in this vein for several years), what we tend to do is use the event as an opportunity to seek out fresh talent (or, going on recent form, scrape up leftovers from reality TV pop shows).
And the reason we do this is very simple. While it would be a fantastic thing if, say, Radiohead won, it wouldn't enhance their already glittering career one bit. Even their most esoteric and impenetrable song is already a cut above 98% of all Eurovision songs. Or way below, depending on your personal taste.
So, nothing to gain. And what if they lose? What if we put our finest creative talent into the mix, only to be scuppered by the notorious Eurovision political voting, where certain countries tend to vote for their age-old rivals, so's not to cause a diplomatic incident? Well, Thom Yorke wouldn't be able to show his face again.
Not that we haven't won ever, of course. In the history of Eurovision, the UK has provided the winning song five times: Sandie Shaw's "Puppet On A String" in 1967 (perky); Lulu's "Boom-Bang-A-Bang" in 1969 (chirpy), the Brotherhood of Man's "Save All Your Kisses For Me" in 1976 (sappy), Bucks Fizz's "Making Your Mind Up" (the one with the skirts); and Katrina and the Waves' (yes, the same ones that did "Walking On Sunshine") "Love Shine A Light", in 1997.
It's just, given our musical pedigree, we should've won more often. And that is why, once people like Lulu and Sandie Shaw and Sir Cliff Richard (who actually entered TWICE) stopped doing it, it was left to people who had nothing left to lose.
Now, before a song can be considered for entry — in the UK at least — it has to pass a rigorous test. There's a BBC TV show called A Song For Europe in which prospective songs are put forward, and the winner is put to a public vote, much like the X Factor, only without all the sneering.
What this effectively means is the most televisually-appealing performance, of the most immediate, fishhook-in-the-brain sort of song, tends to win. Which is how, in 2003, we ended up being represented by this happy pair, and this preposterously perky song:
Jemini – 'Cry Baby'
What you'll notice fairly quickly is that neither member of Jemini is quite singing in tune. They can't spell Gemini either, but let's not get bogged down in the tiny details. They claim, to this day, that their performance was hampered by bad sound onstage, and in a sense they are right. I mean it really does sound bad on stage, doesn't it?
Jemini were the first UK act in Eurovision history to walk away from the competition with no points. This, for a proud musical nation like ours, was a bitter blow. And we have struggled to recover from it. In the years since, we've finished last twice (2008 and 2010) and only once did we even grace the Top 5.
This is our entry for 2011. It's called "I Can", and it's performed by the resurrected boy band Blue, who've individually been in the solo wilderness for a few years, and now have, you've guessed it, nothing left to lose.
See more:
A Brief Introduction To Eurovision
Why Doesn't The UK Win Eurovision Every Year?
Eurovision's Greatest Hits
The Worst Of Eurovision: A Personal Selection
Read More
Filed Under: