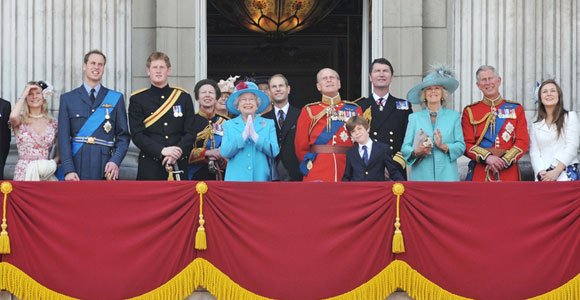 The barrage of publicity surrounding Prince William and Kate Middleton's wedding has certainly raised the profile of the British royal family, but what does a reading of the public opinion poll tea leaves tell us about the enduring popularity — or otherwise — of the monarchy?
One of the first recorded polling questions on royalty was back in 1937, shortly after the abdication crisis when Edward VIII gave up the throne to marry the twice-divorced American society belle Wallis Simpson. The jet-set couple had left Britain, as the consensus was they would be a distraction if they stayed – yet a Gallup poll revealed a high degree of public sympathy for the pair. Sixty-one percent of respondents said the Duke and Duchess of Windsor should "be invited to return to England to live."
Palace advisers know only too well how high-profile events like royal weddings can shape public opinion, hence the importance of William and Kate's wedding passing off smoothly and appearing to be in tune with the current mood of austerity in the UK. When a 2007 Populus/Times opinion poll asked, "Which moments in Royal History have formed your current views towards the royal family?," Princess Diana's death was No. 1 and her wedding to Prince Charles was third.
The voice of Republicanism has echoed through British history since the days of Oliver Cromwell and the execution of King Charles I, but is Britain more republican now than it has been in the past? MORI asked the same question, "Would you favor Britain becoming a republic or remaining a monarchy?," between 1993 and 2006. In 1993, 18 percent favored a republic, and in 2006 the figure was exactly the same, suggesting that opinion on this point hadn't shifted.
However, when the question of how long the monarchy will last is raised, answers suggest that, over the past two decades, a decreasing number of people see the institution surviving long-term. MORI asked a series of questions about the future of the monarchy between 1990 and 2006 – and whereas in 1990, 49 percent of respondents thought there would still be a monarchy in 100 years time, by 2006 that figure had dropped to 24 percent.
Still, in all this reading of the entrails, there's reason to believe that William and Kate's wedding will help ensure the monarchy's survival. A ComRes/CNN internet poll found that 79 percent agree with the statement "William and Kate getting married is good for the future of the monarchy."
Read More
Filed Under: