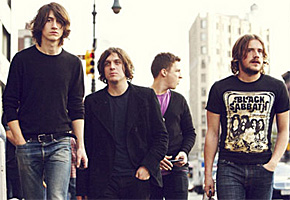 We all remember where we were and what we were thinking the first time we heard there was a hot new band coming from England called Arctic Monkeys, right? We were thinking "Arctic Monkeys? Really? Isn't that…a preposterous name for a band?"
Some of you are possibly enjoying this experience right now. and if you are, all we can say is that it will pass. Let it wash over you. Don't try to fight it.
Now, having established that they are a group of young men whose views on the naming of things are not to be trusted, it should come as no surprise that they had considered a series of, frankly, very rum suggestions for the title of their fourth album "Suck It And See," which they recently finished recording in LA.
Very rum indeed.
Chief Monkey Alex Turner explained to the NME: "We were trying to think of album titles all the time when we were in Los Angeles. As a sort of exercise to try and stumble across something we thought we'd try and name something else and then steal that as our album title."
"So you know fuzz pedals for guitars? Hey usually have quite colorful names. So we were trying to think of fuzz pedal names in the hope it would lead us to an album title."
This then lead them to consider — we're honestly not making this up — such delights as "The Blondo-Sonic Rape Alarm" and "The Rain-Shaped Shimmer Trap."
"We got a load of them," Alex continued, "like "The Thunder-Suckle Fuss Canyon", which is a lyric that did finally get in there, on "Library Pictures." It goes, "we're going riding through the thunder-suckle fuss canyon" and then does a countdown to lift-off."
Like I said, just let it wash over you. You'll be right as rain before you know it.
Would you have preferred "The Rain-Shaped Shimmer Trap"? Tell us here.
Read More
Filed Under: