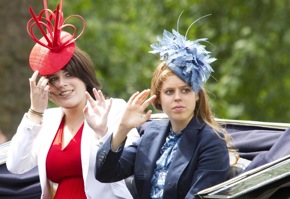 In their first appearance on the world stage as adults, Princesses Beatrice and Eugenie will be guests at the royal wedding on April 29. Can they emerge from the shadows of their controversial parents? BBC royal correspondent Peter Hunt looks at the daughters of Prince Andrew and Sarah Ferguson. (Follow Mr. Hunt on Twitter.)
When, as they surely will, Princess Beatrice and Princess Eugenie appear on the balcony of Buckingham Palace, after the wedding of their cousin Prince William, it will be a reasonably rare public outing for the fifth and sixth-in-line to the throne.
Beatrice was born at an unusual moment — 8:18 pm on 8/8/1988. Now a university student — albeit one living in rooms at a palace — the older sister has grown up pretty much out of the public spotlight.
On occasions, when she has been caught in its glare, it's been because of her mother. Once, for example, the Duchess of York — when talking about Beatrice in a newspaper interview — declared: "It's such fun because we go out on the pull together."
As well as taking unhelpful comments by her mother in her stride, Beatrice has also had to deal with her dyslexia. It's not deterred her from pursuing a university education.
Along the way, the 22-year-old princess has worked as a personal shopper at an upmarket London store, competed in the London Marathon and walked down the catwalk at London Fashion Week. She's even appeared as an extra in the film, The Young Victoria, about her great-great-great-great grandmother, Queen Victoria. (The Duchess of York was one of the executive producers).
The lure of Hollywood hasn't yet beckoned for Beatrice's sibling, Eugenie — perhaps because she insists she is quite shy. Named after one of Queen Victoria's granddaughters, the 21-year-old will helpfully tell those struggling with how to pronounce her name that it's like saying, "Use your knees."
In an interview with the magazine Tatler to mark her 18th birthday, she tackled head-on the subject that presumably fascinates those who meet her — what's it like being a princess?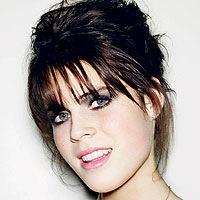 "How do I play the princess thing? I don't really," Eugenie said.
"I don't like talking about it much," she explained. "One of my best friends jokingly says, 'Hi, Princess' and I say 'Shut up.' It is one of the things that bugs me most in the world."
Eugenie had an early taste of the worldwide fascination with her family, though she probably doesn't remember it. When she went to her first school, countless photographers were there to record the moment. But they weren't interested in a royal toddler's education. Their focus, in 1992, was on her mother. She had been in hiding after being snapped topless and having her toes sucked by her American financial advisor, John Bryan.
That episode led one royal official to describe the Duchess as "vulgar, vulgar, vulgar." Now well and truly out of the royal family, she's still capable of causing them grief. Only last year she was filmed offering an undercover tabloid reporter access to her ex-husband, the Queen's son, in return for cash.
Though divorced, they are close, and they have both experienced the pain of being the focus of international attention — for the wrong reasons. The Duke of York's fitness to act as a trade ambassador for Britain has been questioned ever since his friendship with the American billionaire and convicted sex offender, Jeffrey Epstein, came to light.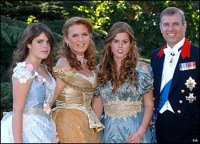 Beatrice and Eugenie regularly sing the praises of their parents. Eugenie has famously said, "They are the best divorced couple I know." Those who know the sisters say they appear grounded and "normal" – or as normal as you can be when the Head of State of Britain and fifteen other countries happens to be your grandmother and you are followed everywhere by personal and expensive bodyguards.
Whether or not they should continue to receive such taxpayer-funded, 24-hour-a-day protection like other senior royals — even on their gap years or during nightclub visits — is being debated in private at the moment. Beatrice is coming to the end of her time at university. Eugenie will finish at college in a couple of years. When they do, they'll have to decide what to do next.
Behind palace walls, there are those who argue that the sisters should get full-time jobs and not take on full-time royal duties. Such a move would fit with Prince Charles's desire, when he is King, for a "slimmed down" House of Windsor.
However, what little Princess Beatrice has said on the subject has suggested she wants to follow in royal footsteps. She has talked of how she's been "put on the earth to make a difference" and of her desire to be a "hands-on royal" who doesn't simply cut ribbons.  As the Princess herself put it when she was 18: "I want to use my job to really just spread a little happiness."
In the coming months — or maybe years if she chooses to study abroad after her graduation — we will know if Princess Beatrice is to be granted her wish.
Read More
Filed Under: