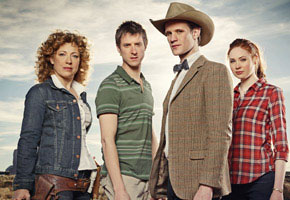 Just who is this centuries-old alien called "the Doctor," and how do you explain him to the uninitiated?
Well, if you have any pals who might be interested in getting started with Doctor Who, pass along the latest installment of the Doctor Who Insider. Featuring exclusive interviews from Matt Smith, Karen Gillan, Alex Kingston, and showrunner Steven Moffat, this clip pretty much gives the newbie fan all the info necessary to dive right in when the new season premieres on April 23. And it's only three-and-a-half minutes, which is less than half the length of the latest Lady Gaga video.
If you were explaining Doctor Who to a new viewer, what else might you tell that person?
Read More
Filed Under: