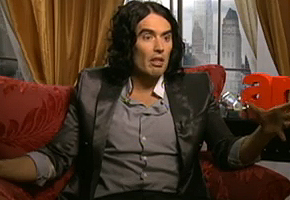 Russell Brand has been enthusiastically fielding questions about the royal wedding while promoting the forthcoming remake of the 1981 romantic comedy classic Arthur, in which he stars.
Jokingly, he told me: "I'll be watching it from beneath the floorboards in Westminster Abbey — and have a jolly good look at the proceedings."
During an interview Brand came across as an ardent fan of all matters royal: "Well, we're English aren't we? We're British, and in America, they're obsessed with that royal wedding. It's on the telly constantly, like they're really into our royal family over here, so I like them."
He maintains one reason why he has a fondness for Her Majesty is because of Dame Helen Mirren's Oscar-winning portrayal of Elizabeth II in the film The Queen – which many moviegoers thought humanized the British monarch.
Dame Helen stars opposite Brand in the Arthur remake — Brand is in the title role — and Mirren plays Arthur's nanny.
Brand portrays the wealthy drunken New York playboy that Dudley Moore made famous in the original 1981 film. The star believes his own experiences with addiction may have helped him with his portrayal of the inebriated Arthur.
Tom Brook's reports on cinema can be seen every Tuesday and Thursday morning on BBC America.
Read More
Filed Under: