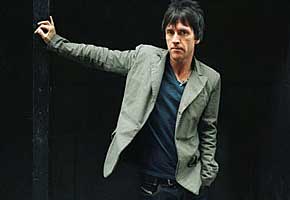 The strange and grimy world of UK indie rock is finally getting the big screen treatment this year. And by the looks of things, it's going to be a pretty star-studded affair (within the boundaries of, y'know, UK indie rock circles).
Powder is the story of a group called the Grams, how they rise to fame, how that fame treats them, and the devastating effects it has on everyone around them. It's a story of girls and drugs and egos and music and drugs again (hence the title), and if the film is anywhere near as good as the book, which was written by Kevin Sampson, it'll be quite something.
It's being directed by Mark Elliott, and stars Liam Boyle and Alfie Allen (yep, brother of Lily, son of Keith) as the band's quarrelling frontmen, and also features Candie McCulloch, the daughter of Echo & the Bunnymen singer Ian.
And that's only the beginning, there'll be cameo appearances from such indie luminaries as Noel Gallagher, the Ting Tings, Lily Allen, the Script, the Wombats, Agyness Deyn, Johnny Marr and Brandon Flowers. And the band's material has been composed by James Walsh of Starsailor.
Band performances were filmed at last year's V Festival, and in Ibiza, with much of the rest of the film being shot in Liverpool.
Kevin told the Liverpool Echo that a good portion of the book is based around his own experiences in indie band management: "I based parts of it on the things I saw backstage when I managed The Farm. But it's not about them, it's about the other bands we met and the music scene in general."
"I always saw this massive potential for comedy and drama in the music business. You've got all those egos, all that excess. You build up a monumental well of anecdotes. It's perfect for a film."
The final cut of the film is being shown for the first time on May 19, as part of an annual event called Sound City, which this year is also being held on Merseyside.
An excited Liam said: "I haven't seen the final film yet – the first edit was more than three hours long, then I saw the two and a half hour cut, but the final film is just 100 minutes. I can't wait to see it."
Powder will be on general release this fall.
Sound good? Have you read the book? Tell us here.
Read More
Filed Under: