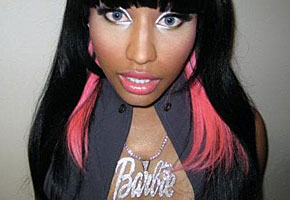 Oh dear. This, gentle Anglophenians, is not destined to be the most exciting chart report we've ever featured. And believe you me, it's not for the lack of trying.
Basically, everything we told you last week about Jennifer Lopez and LMFAO and Pitbull, that's all still going on. J-Lo is still at No.1, LMFAO has snuck up a place past Adele to No.2, and the Black Eyed Peas are still at No.4. Katy Perry and Kanye West's "E.T." has snuck up seven places to No.5, and Snoop Dogg has done likewise to get to No.7.
Everyone else has shifted a little bit — some up, some down — but not particularly far. And we're short of new entries.
In fact, you'd have to swallow-dive all the way down to No.20 before you even find a new entry. And that's Chris Brown (and Benny Benassi) with their song about "Beautiful People." And it's another TWELVE WHOLE PLACES before we find another one, namely Nicki Minaj's reworking of the Big Pink's song "Dominoes," which has been given the full title of "These Girls Fall Like Dominoes."
Here's the original, in case you haven't heard it:
That's it for exciting new pop action, unless you count a No.37 new entry for Jodie Conor and Tinchy Stryder's "Bring It", or the arrival at No.40 of T-Pain's "Best Love Song," one of four songs in the Top 40 to feature the vocal work of Chris Brown.
Oh and by the way, don't go checking out the album chart if you want the thrills this sorry little roundup is so sorely lacking. Adele's been at No.1 there for WEEKS. So long, in fact, that some of the other albums have got cobwebs on them.
For the rest of this week's chart, Radio 1 has the full rundown.
Which song should Nicki Minaj tackle next? Tell us here.
Read More
Filed Under: