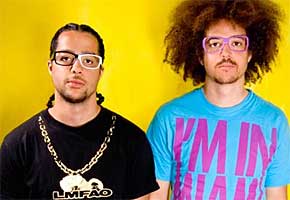 This week's chart is another sedate affair, I'm afraid. Some shuffling around at the top end of things, a bit of jostling here and there, the steady creep of a couple of notable slow-burners up to the high end of things, but not much in the way of astonishing drama or intrigue.
Let's start at the very top: Last week, Jennifer Lopez was at No.1 with "On The Floor," and LMFAO were at No.2 with "Party Rock Anthem." This week, those positions have been reversed.
Katy Perry and Kanye West jump over Adele and Black Eyed Peas to secure the No.3 spot with "E.T.", and Snoop Dogg performs a remarkably athletic hurdle over FIVE other songs to take his "Sweat" to No.4. Incidentally, did you read the news reports last week where Snoop was claiming this song — back when it used to be called "Wet" — was his own tribute to Kate and William and the Royal Wedding? Can't see it being played at the ceremony, myself.
So, after we've skimmed past the tumbling Adele and Black Eyed Peas, and tactfully ignored Rihanna's snuggle-up with Britney Spears at No.7, we find ourselves once again marvelling at the astonishing chart resilience of Chris Brown. His "Beautiful People" has hopped up 12 places to No.8.
Further down the chart, Lady Gaga's "Judas" makes a new entry at No.14, only three days after release, Ke$ha loiters around the No.32 spot with "Blow," Dionne Bromfield (Amy Winehouse's god-daughter) arrives at No.36 with the very Amy-ish "Yeah Right," and the Arctic Monkeys sneak in at No.28, with this spiteful ditty:
I don't know who's got Alex Turner's back up now, but does anyone else wonder how big his collection of voodoo dolls actually is?
For the rest of this week's chart, Radio 1 has the full rundown.
Do we like the new Arctics tune? Tell us here.
Read More
Filed Under: