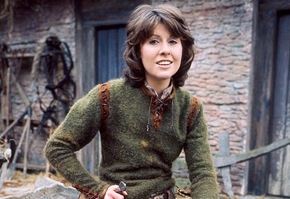 Remembrances and condolences for Elisabeth Sladen are trending on Twitter in the UK.
Colleagues and fans alike were saddened by the death of the 63-year-old actress, who played Doctor Who companion Sarah Jane Smith for four decades.
Tweets reflected their sorrow and their appreciation of her work.
SFXmagazine: SFX is shocked at saddened at the news of Elisabeth Sladen's death. So charming, so lovely, so amazing. Goodbye Lis. You were fantastic
SFXmagazine: Lis Sladen would take a moment, on a hot summer's day set visit, to ask if the journos had water. Little things like that summed her up.
DWMtweets: With great sadness, DWM must report the loss of our beloved Sarah Jane, actress Elisabeth Sladen. The best of best friends. Too, too sad.
RadioTimes: Interactive timeline of Elisabeth Sladen as Sarah Jane Smith: bit.ly/fc3PZ6
RadioTimes: We had a rummage in our archives today, found some wonderful photos of Elisabeth Sladen as Sarah Jane: bit.ly/g9hp8K
stephenfry: What terribly sad news about Elisabeth Sladen – her Sarah Jane was part of my childhood. Deepest sympathy to her family.
neilhimself: It looks like the Lis Sladen news is official. Big sadness. Rest in Peace
IonaPinter139: Don't forget me, Sarah Jane "No-one will ever forget you, Doctor" No-one will ever forget you, Sarah Jane Smith. RIP Elisabeth Sladen.
jogallagher18: 70's Dr Who fans and todays Sarah Jane Adventures fans will all be sad. Talk about bridging the generations RIP
cyberadam26: My condolences to the family and friends of Elisabeth Sladen. We will all miss Sarah Jane Smith. 🙁
PoetoftheSphere‎: "Yes, some things are worth getting your heart broken for." -Sarah Jane Smith — RIP Elisabeth Sladen 🙁
Read More
Filed Under: