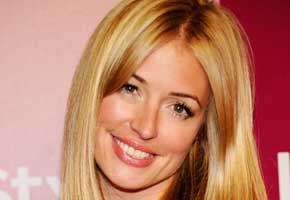 In your weekly guide to all that's British on American TV, Cat Deeley leads five Royally Mad Yankees on a London tour, The Ricky Gervais Show has its season finale, Jamie Oliver's Food Revolution hits the West Coast, and HBO launches their latest bit of awards bait, Game of Thrones. All times are in EST and may be subject to change.
Monday, April 11
PJ Harvey, who recently released her eighth album Let England Shake, performs tonight on Conan.
Russell Brand is determined to hold court on all of the late-night TV couches, this time on Lopez Tonight.
Tuesday, April 12
Jamie Oliver brings his Food Revolution to L.A.'s public schools in his second season of his reality series. It premieres on ABC at 8 pm.
British host Cat Deeley and five royal-obsessed Americans hit up London in the two-part special Royally Mad, which premieres tonight at 10 pm on BBC America.
Ricky Gervais appears on Letterman ahead of the season finale of his animated series and his upcoming comedy special Talking Funny, both on HBO.
Gordon Ramsay is on Conan tonight.
Wednesday, April 13
Yep, here's Ricky Gervais again, but in sharply different environs from the Ed Sullivan Theater. Today, he chats with the ladies of The View; his appearances on the show are always mildly awkward and yet tremendously entertaining.

British pop star Jessie J, whose single "Price Tag" is scaling the Billboard Hot 100, is the musical guest on The Tonight Show with Jay Leno.
Thursday, April 14
In his week-long promo tour, Ricky Gervais is making sure he has all of his demos covered, this time going after the collegiate crowd on tonight's The Daily Show with Jon Stewart.
Friday, April 15
Big day for UK-based pop ingenues: Jessie J performs on Ellen, and the chirpy Eliza Doolittle (singer of the unavoidable 2010 hit "Pack Up") turns up on Jay Leno.
Capping a week of "All Ricky, all the time," The Ricky Gervais Show ends its second season on HBO. In this episode, Ricky asks his cohort Karl Pilkington if he'd trade in his real existence for a life in a virtual-reality isolation tank.
Saturday, April 16
ABC is airing the Brit-loaded Pirates of the Caribbean: The Dead Man's Chest tonight at 8 pm.
Sunday, April 17
Speaking of UK-heavy casts, HBO is premiering its much-anticipated fantasy series Game of Thrones, based on George R.R. Martin's best-selling A Song of Ice and Fire novel series. It's being hailed as J.R.R. Tolkien meets The Sopranos, featuring epic power struggles and graphic violence. Brits in the cast include Sean Bean (wielding a sword once more), Michelle Fairley, Lena Headey, Emilia Clarke, Doctor Who alums Harry Lloyd and Iain Glen, The Wire's Aiden Gillen, and Alfie Allen (brother of Lily and son of Keith). It airs 9 pm.
What are you watching this week?

Read More
Filed Under: