There's a humble resignation to Marcus Foster's raw sound and contemplative lyrics, particularly in his new four-song EP, Tumble Down. But there's no question that Foster definitely knows how to rock it out as well.
The emerging British singer/songwriter is a welcome addition to the new wave of British folk, joining, among others, his Communion Records label-mates Mumford & Sons. And like M&S, Foster is certain to make a splash on American shores as well.
Poetic and soulful, Foster works from a wide palette of musical, literary and fine art inspiration — he's been studying music since he was six years old and has a master's degree in sculpture from London's Royal College of Art.
With a full album scheduled for release in June and a spring packed with UK tour dates — summer dates in the U.S. forthcoming — Foster was excited and ready to go when I recently spoke to him from London:
What was it like to write "Shadows in the City," the first single off Tumble Down?
I kind of have different ways of writing. Sometimes I tend to write personally, while other times I put myself in different situations. I guess my songs are like short stories. I find elements and I write through them. It kind of allows me to be a character myself, which adds to the performance.
So are you a city guy or a country guy?
I grew up in London and like both, but I'm more of a city person.
What inspired the track "Tumble Down"? It's gorgeous and deep.
A lot of my songs tend to be about time. I always have this fear that I'm running out of time or something. I read this Dylan Thomas poem that talks about if you really saw the world, if you touch the world, it would crumble and be destroyed. I had this idea of people wandering around and never really seeing the world. Then, I have this weird thing when I sing and perform it live –
What's that?
I imagine trying to kill a wild animal –
Really? That is a little weird.
(Laughs) Yeah and also imagine that someone is falling. It's one of my favorite songs to perform live, I feel like there is a gate to constantly try to push open.
Where do you like to work on your music?
There's this place I go in the north of France on a farm. For some reason, it's the only time I can get away from everything. It's in the middle of nowhere. I take some alcohol to the end of the field. Sometimes it's really late and it's all very cliché, really…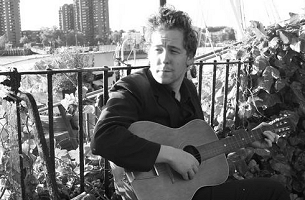 How did you find your own sound?
A lot of people don't see very far back into music. They try to sound like what's cool and then we have a million things that all sound the same. Nobody's trying to be themselves. Maybe they are. Maybe I'm out of place. Hopefully people are getting back into the old ways. I really like people like Tom Waits. He makes up these crazy characters and makes the music cinematic.
What other musicians inspire you?
I quite like Joan As Police Woman, the new Arcade Fire, and the new Mavis Staples' record. I'm completely obsessed with this piano player Otis Spann. Different kinds of gospel, blues, folk…I'm really into the new Black Keys album, too. I love Ray Charles and Otis Redding. I like reading the author Jorge Luis Borges for inspiration.
What was it like for you to tour the States?
I did a couple of times and loved it. I wrote a lot while I was on the road. I could definitely could see myself living in New York. I love New York. I quite like Chicago and San Francisco. I took a bus from LA to Colorado — 25 hours of pure desert on the Greyhound. Everybody said, "Don't do it!" Very intense. (Laughs)
Did you always want to be doing what you're doing?
I don't know. I just always wanted to make music and art. I'm just so lucky now having found the right people, the right band and being able to make a record. That's all.
Read More
Filed Under: