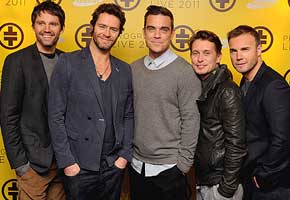 While Take That may be one of the older (and we'd like to think they're all the wiser, too!) band on the UK pop circuit these days, singer Gary Barlow seems pretty ok with that idea. Just don't expect his bandmate Howard Donald to enthusiastically chime in on the matter.
Speaking to The Sun, the 43-year-old Donald — who is the oldest member of Take That — revealed some slight anxiety over the issue of aging.
"I am very sensitive about my age," he said. "Gary will make jokes that I'm 46 or 47 and it really p***** me off. I feel like I'm still fit enough to go on, I don't feel my age."
Right on, Howard! Age ain't nothing but a number, y'know? Besides, 40 is supposedly the new 30. All of you — you, Barlow, Mark Owen, Jason Orange and Robbie Williams — are looking extremely fab these days. Just look at the video for "The Flood." Wowsa!
Maybe Donald is just a little embarrassed. After all, he did give himself a collapsed lung after attempting the splits during a concert a few years back. And last November, the poor lad hurt his ankle during a gym exercise. There again U2's Bono injured his back during pre-show preparations in May 2010 and the band had to postpone a huge part of their U2360° tour. How do you think he felt, Howie?
On the other hand, the happy-go-lucky Barlow went on the explain that being over the hill is quite "lovely."
"People still find it hard to believe I'm 40," he beamed. "Actually I'm not bothered about age. I'm really happy and it's lovely to be 40, I'd recommend it to anyone. Music is a young person's industry but you want a few of the older bands like us around."
Mark Owen also shared Barlow's sentiments: "I'm pleased we have got this far through our lives — almost halfway hopefully, that's quite an achievement," the 39-year-old pint-sized singer said.
Hey, Howard … go have a chat with Robbie about the joys of painting and drawing. Maybe taking on a hobby or two might help with your stress about aging?
And one more thing dude, you've got some over-40 allies out there, still bangin' on: Damon Albarn, Noel Gallagher, and Suede's Brett Anderson are all 43. PJ Harvey is fabulous at 41. And Jarvis Cocker is 47! Susan Boyle just turned the big 5-0! Heh.
Read More
Filed Under: