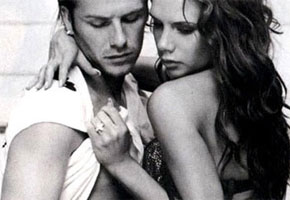 Normally, we'd be looking to pick only the very best of stories about what is going on in the lives of the five former Spice Girls, not least because they ARE former Spice Girls, and therefore not quite as fascinating as maybe they once were (and that's assuming a certain amount of fascination in the first place).
However, three stories caught our eye today, and try as we might, we just can't choose between them. So here they all are:
SPICE STORY ONE: Last week we made a gag about Victoria Beckham's unorthodox method of naming her children, this week the tabloids have taken it a stage further, with a rumor which is frankly too mad to be true, but too brilliant not to pass on.
According to The Sun, Victoria is once again looking to her immediate surroundings for inspiration in naming her unborn daughter, as has become particularly taken with the idea of naming her after the L.A. district of Santa Monica.
Now if you or I had this idea, we'd go with the name Monica — it actually IS a name, after all — and all would be well. Not so Victoria, who is reported to be seriously considering the name Santa Beckham. No. Really.
Of course, her spokespeople have already rung Vogue UK to dismiss the story as "tabloid nonsense," and quite right too, but still. Amazing.
SPICE STORY TWO: Victoria's husband David is apparently going into business with Snoop Dogg, to market a new clothing line… for babies. I'll give you a second to read that again. It's a little baffling at first glance.
Back with us? OK. Snoop explained to The Mirror: "I'd love to do a Babygro range, with baby shoes, with Beckham. It's going to be fly. It's great news they are having a baby."
He then went on to suggest that David might make a good rapper. NO HE REALLY DID!
"I'm gonna show him to rap. He's my boy. I love soccer just as he does hip-hop. Beckham needs to keep doing what he's doing. He's a great father."
SPICE STORY THREE: This one concerns the former Scary Spice, Melanie Brown, and her on-off relationship with her family back in Leeds.
It seems relations between Mel and her mother and sister became frayed around the time of her marriage to Stephen Belafonte. To such an extent that her sister Danielle ended up talking to the tabloids, saying that she has to follow Mel on Twitter to find out how she's getting on.
This then prompted Mel to send her sister a tweet, saying: "Hi sis weird press saying we don't talk, when we spoke a few weeks ago.."
Danielle replied: "OMG a tweet that is nice but a call would be nicer, I dont have your number Love You (call mum and dad too)".
And Mel then said: "So sorry I just texted you and everyone my number, would love to see you if you have time, so proud of you!"
So there we have it, proof once again that the internet is a major force for good in the world.
UPDATE: Oops, spoke too soon. There's been a row, on Twitter, as Musicrooms explains.
Spiceworld, that is…
After which part of L.A. should the Beckhams name their daughter? Tell us here.
Read More
Filed Under: