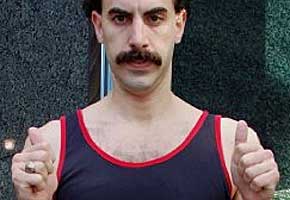 If I'm honest, I never thought Queen were the choosiest of bands with regard to how their legacy is maintained. There's the stage musical We Will Rock You for example, or the collaboration with the pop group Five on the song of the same name. And then there was the slightly odd version of the group which featured Free's Paul Rogers as a replacement for Freddie Mercury (the shoes were simply too big to fill).
So it seems a little strange to hear that the band are a little wary of a new film of the band's career, scripted by the Oscar-winning Peter Morgan (he wrote The Queen, fittingly), and starring Sacha Baron Cohen as Fred. Clearly Sacha is the perfect man for the job, and clearly it's going to be amazing. Or at least, not as weird as "We Will Rock You." Look:
So why all the worry? Brian May explained to the Daily Record that this feels like a definitive re-telling of their story, and it's for that reason the three surviving members of the band are reluctant to fully commit.
He said: "It is a project which is taking up a lot of time even though it is in the preparatory stages. It is a bit early to say how we feel about it. Obviously, we go into it with a great amount of enthusiasm but also a certain amount of caution because Freddie's legacy is very precious and we have a great responsibility not to mess it up."
"It is more about Freddie than it is about us and that is deliberately so."
"We have resisted making this film for a long time and it is only now we feel we have the right people that we have given it the OK. Sacha does seem perfect. If it hadn't been for Sacha pushing and pushing, we wouldn't be at this point. We didn't choose him. He chose us. He is passionate about playing Freddie. For years, he's been saying he is going to do it."
Just do us one favour, Brian. Don't take him out on tour.
Are you keen to see Sacha play Freddie? Tell us here.
Read More
Filed Under: