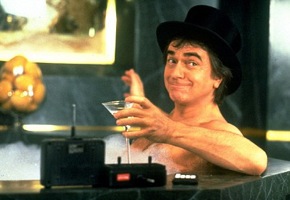 There's a new Arthur on screen and the sole advantage he has over his earlier, equally tipsy namesake is height. Yes, sorry to say, but watching a miscast Russell Brand strain to be funny in a sluggish remake of Arthur, the classic comedy about a frequently inebriated millionaire (opening Friday), only serves to underscore how fundamental Dudley Moore, with his impish adorability, was to the success of the 1981 original.
Moore, who died at age 66 in 2002 after suffering for several years from a neurological disease called progressive supranuclear palsy, was the most unlikely of movie stars, much less a leading man. He stood only 5 feet 2 inches – "If I'd been able to hit someone in the nose, I wouldn't have been a comic," he once said – and was already in his mid-forties when he hit it big in Hollywood.
Born to a working class family and raised near London, he showed an early gift for music. His talent won him a scholarship to Oxford, where he appeared in and wrote tunes for school theatricals. After college, he toured as a jazz musician and, in 1960, his college classmate Alan Bennett (who would later write History Boys and numerous other plays) talked Moore into appearing at the Edinburgh Festival in the groundbreaking Beyond the Fringe comedy review. Along with Bennett, Fringe castmates included polymath Jonathan Miller and comic performer Peter Cook.
The show proved a huge hit, transferring to the West End in 1961 and then Broadway. Afterwards, Moore and Cook teamed up as a comedy duo and continued to perform on their own show on British television and on stage, as well as in a handful of films, including the 1967 Bedazzled, which they also wrote.
Among the pair's most beloved routines were those featuring Pete and Dud, two blokes having a pint and philosophizing about life. Though many of the tapes of these early BBC broadcasts were later destroyed, a few have been preserved and posted on YouTube, where they suggest the flavor of the routines.
Eventually, Cook's drinking took a toll on the relationship, both professionally and personally. Moore, on his own and at loose ends, decided to try his luck in Hollywood. A showy supporting role as a would-be swinger who hits on Goldie Hawn in a singles bar in Foul Play (1978) boosted his stock and, after George Segal dropped out of 10, writer-director Blake Edwards, who had met Moore in a group therapy session, cast the diminutive Brit as the movie's lead. The salacious, slap-sticky comedy, about a middle-aged composer who lusts after a young, bikini-clad woman (Bo Derek) he glimpses running on a beach, turned Moore into an international star.
A year later, he followed up with Arthur, which became an even bigger hit. A screwball comedy, it showcased Moore's puckish charm and musical ability (he plinked away at a white baby grand). The movie costarred Liza Minnelli and Sir John Gielgud, whose turn as a tart-tongued valet won him an Oscar for Best Supporting Actor. Moore himself was nominated for a Best Actor Oscar and won a Golden Globe for the role. "His Arthur is a satyr, a sprite, an over-age waif and a consistently endearing showoff," wrote movie critic Vincent Canby, reviewing the film in the New York Times. "His timing is magical."
Moore was riding high. In 1983, the National Association of Theater Owners named him the top male star at the box office. Meanwhile, his busy love life – which over the years included four marriages and a lengthy affair with actress Susan Anton – made him a fixture in the tabloids, which often referred to him as "Cuddly Dudley" and "The Sex Thimble."
Moore churned out lousy comedies, including Santa Clause (1985), Like Father, Like Son (1987) and the dismal Arthur 2: On the Rocks (1988). By the 1990s, Moore's Hollywood movie career had gone belly up and attempts at two TV sitcoms, Dudley (1993) and Daddy's Girls (1994), went nowhere. He began having balance problems and slurring lines, which turned out to be early manifestations of his illness, which he revealed publicly in 1999. One of Moore's final public appearances – he was mute and in a wheel chair – came in 2001 when he was made a Commander of the Order of the British Empire by Prince Charles at Buckingham Palace.
Moore's moment at the top was brief, but while he was there, and in his stage and TV performances before, he shone brightly. Shortly, but brightly.
What's your favorite Dudley Moore film?
Trailer for 10:
Trailer for Arthur:
http://www.youtube.com/watch?v=zyHRYu8JF4o&feature=related
Peter Cook & Dudley Moore on Michael Parkinson's chat show on the BBC:
Beyond the Fringe clip with Moore singing "Little Miss Muffett" as set to music by Benjamin Britten:
Read More
Filed Under: