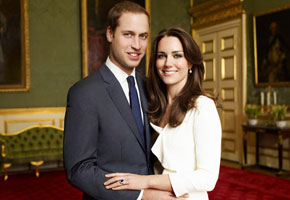 The schedule for the royal wedding day has been released. Here it is as reported by The Daily Mail and ABCNews.com. Note: All times are London time.
• 8:30 am: Guests start arriving at Westminster Abbey.
• 10:30 am: Carole Middleton, Kate's mother, enters Abbey through Great West Door.
• 10:40 am – 10:50 am: Royal family begins arriving, enters through Great West Door. William accompanied by his best man, Prince Harry. The Queen and her husband, Prince Philip, last to arrive of this group.
• 11:00 am: Kate, her father, Michael Middleton, and five bridesmaids arrive at Great West Door. Although it was understood that Kate would use the Rolls-Royce Phantom VI, Queen has offered use of another Rolls in her fleet.
• 11:00 am: Simultaneous with arrival, Buckingham Palace discloses wedding gown, designer, sketches and photos. Palace will also release, if it has not done so earlier in morning, title bestowed by Queen on the couple.
• 11:05 am – 12:05 pm (approx.): Service conducted by the Very Rev. John Hall, Dean of Westminster. Wedding vows presided over by Rowan Williams, the Archbishop of Canterbury. Sermon delivered by the Right Rev. Richard Chartres.
• 12:40 pm: After ride down The Mall in 1902 State Landau horse-drawn carriage, newlyweds arrive at Buckingham Palace. Other wedding party members follow.
• 12:40 pm (approx.) – 1:25 pm: Official wedding portraits taken.
• 1:25 pm: Newlyweds appear on Buckingham Palace balcony. Wave to adoring crowds.
• 1:30 pm: Royal Air Force fly-over of jet and propeller planes.
• 1:32 pm – 1:40 pm: Widely expected newlywed kiss. Kate and William's last scheduled public appearance of the day.
In other royal-related news:
• The Daily Mail reports that Camilla, Prince Charles's wife, believes Kate should hew to past practice and wear a tiara. Kate, however, would prefer to wear flowers in her hair, sources say.
Camilla has been Kate's trusted adviser on many elements of the wedding, and she's been uncharacteristically publicly effusive about the royal family's newest prospective member. But Camilla, 63, is simply of a different generation than Kate, 29. And it's clear that Kate is willing to break with precedent when she chooses, such as arriving at Westminster Abbey by car, not carriage. (Let's not carried away, however. The vehicle will be a Rolls-Royce limousine.)
Additionally, Kate's locks are the envy of most sentient females in the western world. Why cover them up? Presumably, there's a reason Kate has called upon six — yes, six — hairdressers to tend to her tresses on the big day.
• You know how it is. So busy planning the wedding there just isn't time to prepare a home. So you move in with a relative for a bit. In the case of Kate and William, that would be your second home, and the relative would be Prince Harry, who makes due with a suite at London's Clarence House. The Daily Mail reports that the couple have yet to choose among "apartments" at Buckingham Palace, St. James's Palace, or Kensington Palace for their London base of operations.
For sense of scale, Prince Michael of Kent, the Queen's cousin, lives in a five-bedroom, five-reception room "apartment" in Kensington Palace. Of course, Kate and William will spend most of their time at William's 4,000-sq. ft. farmhouse near William's Royal Air Force base in Wales. But, for now, when in London, they will be Harry's houseguests. "The rooms aren't particularly fancy but Catherine is used to them," a "source" said. "She gets on brilliantly with Harry so it won't be too much of a hardship shacking up with him for a while."
• In another demonstration that the royal family is hip to the microchip, a royal app goes on sale April 18. Available through the royal collection, the app will cost £1.79 ($2.92 ) for Apple and Android phones. Consumers can choose from eight languages, and the app will tell the story of seven royal nuptials, from Victoria and Albert in 1840 to Charles and Camilla in 2005, The Associated Press reports.
• The Royal Canadian Mint has unveiled its royal wedding commemorative coins. They have something unusual for those of us south of the border: a color portrait of William and Kate. According to BBCNews.com, the 25-cent (Canadian) coin has the color portrait. The $20 (Can) has a sapphire-colored crystal inlay to honor Kate's engagement ring. It sells for $109 (U.S.)
• As an American, one sees some royal-inspired ideas so awful they could only spring from the mind of a Yank. Exhibit A: Princess Prep. Yes, for a mere $3,995, you can send your 8-to-14-year-old to London for six days to learn how to act like a princess. The camp is run by "Miss" Jerramy Fine, a U.S. citizen now living in London. There is instruction on etiquette, beauty, horseback riding, royal history and philanthropy. Meals are served by a butler — get this — named Jeeves. Somehow, there's a feminist twist to all this nonsense. A "true princess" they say, "believ[es] passionately in herself." So do kids who sit around a campfire eating S'mores.
Read More
Filed Under: