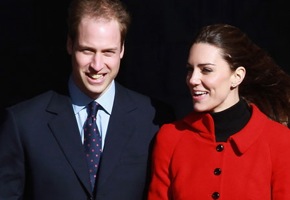 There are many unusual things about Kate and William's wedding. One of them is the 22-page etiquette guide sent to the guests. According to the Daily Mirror, the missive contains sensible advice such as don't wear cream or white (those colors are reserved for bride) and turn off your cell phone. (No problem. Security concerns are such that all electronic devices are banned in Westminster Abbey.) And pay attention when the Queen arrives. "As the Queen enters Westminster Abbey, everybody has to acknowledge her arrival with a curtsy or bow as she walks through. The same must happen as she leaves," the guide says. The advice to the catering staff is almost heartbreaking. "They have been told not to look at Kate, the Queen or any of the royals while serving," a "royal source" says. "They must keep their heads down and be as discreet as possible."
In other royal-related news:
• According to The Daily Mail, Kate's wedding hair stylist will be James Pryce, 33. Many had thought she would choose the high-profile Peter Ward, who calls himself the "King of the TV Makeover." But Pryce is hardly a stranger. He was responsible for Kate's "luxuriant locks" in her official engagement portraits. Pryce also works at Ward's Sloane Square salon, where Kate is a longtime client. She is testing several hairstyles, but the prediction is Kate will opt for a "half-up, half-down" look. Said Brides magazine beauty editor Alice du Parcq, "Too high and she'll look like a Disney Princess, too low and she'll look old-fashioned." Meanwhile, Ward will be busy hairdressing Kate's mother, Carole, and Kate's sister, Pippa, who is the maid of honor.
• Although Kate has been called a "fashion icon," The Financial Times puts that description to the test, asking several experts if Kate truly has the power to improve a fashion firm's bottom line. The results are decidedly mixed:
David Yermack, a professor at New York University's Stern School of Business, who has studied the economic effects of Michelle Obama's fashion choices, is skeptical of Middleton's financial clout. "This obsession with Kate Middleton's wardrobe will be episodic," he says, pointing out that Middleton has been in the public eye since 2003 when she started dating Prince William. "I don't think she can morph into a fashion icon when everyone knows her so well." Lars von Bennigsen, chief executive of Temperley London, believes Middleton will be "rather understated, independent and will not look to stand in the limelight nor fight to be recognized as a fashion icon." But Simon Doonan, "creative ambassador-at-large" for Barneys believes Kate's largest contribution might be moderating the "super slutty trend" in young women's clothing. "It has been fairly out of control on both sides of the Atlantic," Doonan says. "I think Kate will make girls think twice before dressing in a sexually available way."
• Eight weeks after the wedding, Kate will make her first official visit to another country as William's wife. She and William will tour Canada from June 30 to July 8. Now the hunt is on for a royal stylist, who will help Kate select the approximately 30 outfits (roughly three per day) for the trip. Until now, Kate has resisted such assistance, trusting her own fashion sense. But given the trip's high profile, the number of outfits involved, and the fact that Kate is just a trifle busy these days, it was decided assistance was necessary.
The leading contender for royal stylist, according to The Daily Mail, is Emily Sheffield, "the highly regarded" deputy editor of British Vogue. Sheffield also happens to be the sister of Samantha Cameron, who is married to Prime Minister David Cameron. "She helps Samantha a lot and knows exactly how to dress for state occasions, receptions and walkabouts, which need to be well planned and carefully thought out," says a "friend." Another contender is Amanda Sheppard, who has worked in fashion design and public relations. A friend of William's, she is singer Bryan Ferry's girlfriend. Finally, there is Kate's friend Nikki Pennie, who has supplied sartorial advice to celebrities such as Madonna.
• What if they threw a royal wedding and nobody came? Or what if they threw a royal wedding and a few protesters turned violent? For television networks, particularly those from the U.S., it's a thorny problem, Reuters reports. Having sunk so many resources into covering the royal nuptials, would the networks report that the crowds are far smaller than expected? (An estimated 600,000 people showed up for the marriage of Prince Charles, William's father, and the late Princess Diana, in 1981. Some enthusiasts claim twice that number will congregate in London this time.) Or what if a small band of protesters turn violent, smashing windows and the like? Would the cameras turn away from "the wedding of the century" to cover the disturbance? Graham Smith, head of the anti-monarchy group Republic, says he will monitor the coverage to see if it reflects what is happening in the streets.
• What do you get the couple who has everything? How about a solar panel? Greeningthegovernment.com, an environmental group, believes Kate and William need a Kyocera photovoltaic solar panel. "The solar panel symbolizes our best wishes for the royal couple and their future children," the group's website says. "We want their children and their children's children to grow up in a world that is cleaner and healthier than our own." There's only one small problem. The group doesn't have the cash to buy the $500 gift. So they're asking 100 people to send $5. Donors can also sign a gift card and write a brief message.
Read More
Filed Under: