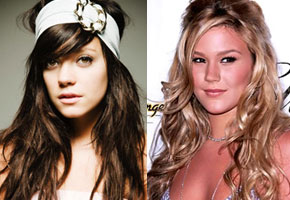 It's come to this: one mid-level UK female pop star slagging a top-level UK pop star over a royal wedding invitation. Lily Allen is peeved that Joss Stone was invited and she was not. Background for the clueless: Lily Allen, 25, released two LP's that sold well in Europe. Ms. Allen is so filled with talent that she is reportedly putting her music career "on hiatus" so she can act, open a fashion boutique, and do whatever else strikes her fancy.
Joss Stone, 24, has released four LP's, selling more than 11 million albums worldwide. Both women performed at the tribute concert to the late Princess Diana in 2007. "Well, you can quote me as 'outraged', why does bloody Joss Stone get an invite and not moi? I sang at the Diana concert too!" Ms. Allen tweeted, according to monsters and critics.com. When one fan suggested Stone might hold her liquor better than Ms. Allen, she replied, "Yeah, but she's a stoner… so she'll probably pull a whitey [turn pale] after her second glass of champers [champagne] and vom everwhere [sic]."
In other royal wedding related news:
• When Kate and William are at the peak of their fame, the newlyweds will disappear. Immediately after their vows in Westminster Abbey, the couple will walk behind the altar and enter the tiny chapel of St. Edward the Confessor. Out of camera range, Kate and William, surrounded by a few friends and family acting as witnesses, will sign the Abbey's wedding register, The Mirror reports. Edward was king of England from 1042 to 1066 and, ironically, is the patron saint of both the royal family and difficult marriages.
Other royals buried in the chapel include Henry III, Henry V and his queen, Catherine de Valois, Richard II and his first wife, Anne of Bohemia, and Edward III and his queen, Philippa of Hainault. The chapel also holds the bodies of Edward I, who ruled in the 13th century, and expelled all Jews from England, and his wife, Eleanor of Castile. They were known as a devoted couple who were rarely apart during their 36-year marriage.
• If your face were about to be beamed all over the globe, perhaps you'd think a little care is in order. Kate spent part of Monday (April 25) having a facial at The Retreat spa, according to The Mirror. Calling itself a "bespoke beauty salon," The Retreat is about a 20-minute drive from the Middleton family home. "You will be treated and pampered and retreat from the stresses & strains of every day life," The Retreat's website promises. With younger sister Pippa in tow, Kate reportedly spent £82 ($135) on a one-hour treatment of "Crystal Clear Oxygen Therapy." The treatment allegedly "re-builds" facial skin because the use of "pure oxygen" has an "energizing and healing effect" on cells.
• Someone who bets nearly $10,000 on which tiara Kate will wear either — pardon the pun — needs to have their head examined or has a remarkably reliable source. The Sun reports that a "well spoken, middle aged" woman has placed a £6,000 cash wager that Kate will wear the George III Tiara, which was worn by Queen Mary, the late Queen Mother, Queen Elizabeth, and her daughter, Princess Anne, at their weddings. Kate would be the first "commoner" to don the diamond-encrusted headpiece. Betting on just about anything is legal in the UK. At odds of 12:1, the woman could win $118,470. As a result of the wager, Ladbrokes is no longer accepting bets on Kate's headgear. "If the punt [bet] comes home, we'll lose a fortune," said a Ladbrokes spokesman. "This woman either has more money than sense, or she is very well informed."
• Many are called, but not all are chosen. The Daily Mail has a story on the horses of the Metropolitan (London) Police's Grey Escort who will accompany Kate and William's carriage from Westminster Abbey. Although eleven horses are under consideration, only nine are deployed. Two animals will spend the wedding day in their stalls. Not only are factors such as temperament considered, but so is how well a horse's coat matches the others. "Particularly for something like the royal wedding, it's going to be a real challenge for the horses and the officers on the route," said Chief Inspector Bob Barker, head of the mounted branch. "The noise, the crowd, the flags — it's all going to be a challenge." The Mail includes a handy guide to the finalists. We're routing for Anabel, age 21, on the theory that this may be her last major event. Whippersnapper Jackson, 9, can wait his turn.
• They're a little late to the party, but considering who they hang out with, it's amazing they noticed at all. In a move that is sure to quicken the pulse of eight-year-old boys everywhere, Topps is issuing a set of 50 royal commemorative cards.
The fun begins tomorrow (April 27) when Topps releases its 2011 "Gypsy Queen" baseball cards. Each pack is modeled after an 1880s baseball card set and, as a bonus, will include a card devoted to the royal wedding, ESPN.com reports. On Friday (April 29), Topps will release its 50-card royal wedding commemorative set, with pictures of the whole gang: Kate, William, Queen Elizabeth, and even Kate's engagement ring. The cards will be sold on QVC starting at 1 p.m. ET. They can be pre-ordered for $24.19. At least these cards will finally settle the question of how many RBIs Kate had in 2010.
Read More
Filed Under: