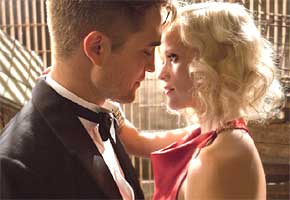 See this picture? That's Robert Pattinson (yes, yes, *swoon* etc) and Reese Witherspoon about to exchange a tender moment in the soon-to-be-released film Water For Elephants. And as you'd expect, before filming commenced, Reese was looking forward to finding out what kissing our dapper vampire friend might be like (strictly in the interests of, y'know, science, of course).
Sadly, it was not the headspinning, Earth-stopping thrill she had maybe hoped for.
Reese explained to In Touch magazine that there was just one problem ruining their tender moments together: "Rob possibly had the most hideous horrible cold of any co-star I've ever had to do a love scene with ever in my entire life."
"He was literally snorting and snotting through every second of it – and it was not appealing. I'm talking green, infectious, disgusting. I'm not kidding!"
And let's not forget, Reese is the daughter of an ear, nose and throat doctor, she's knows what she's taking about in the green, infectious and disgusting department.
"I'm going to say it's a little bit of a downer. I was a little disappointed. It wasn't sexy".
Kind of makes you look at that picture in a whole new light, eh?
Would you kiss Snotty Bob? Tell us here.
Read More
Filed Under: