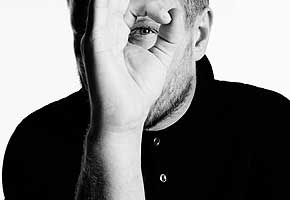 It's always tricky being asked to do the thing you do for a living as a special favour for your friends or family. It doesn't really matter whether you're a doctor, a plumber or a waffle chef, as soon as you're out of that professional environment and in your home world, things get a bit awkward.
So you can completely understand why the fashion photographer Rankin refuses to take the official photographs at family weddings. It's not so much that he can't do it, it's more that it's a no-win situation for him. He either does a brilliant job and everyone says "well he would, he's Rankin," or mucks it up, leaving everyone scratching their heads and saying "I thought he was supposed to be good at this?
He explained to UK Vogue: "There's too much pressure on it and so much stress seems to surround weddings. I always say no to photographing family weddings – I'll always set up a studio on the day but I won't take pictures all day. You don't want to mess it up."
Ah but what if it was someone from both worlds? What if, for example, Kate Moss was getting married to, say Jamie Hince from the Kills in, I dunno, July, and she asked you? What then? She's Kate blimming Moss, y'know!
He continued: "You don't say no to Kate but she wouldn't ask me — she'll probably get Mario [Testino]. If she did ask though, I'd tell her to get a back up as well as me. I'd be so nervous, and not just because it's her — for anyone. It's a really special day."
Of course, now everyone will be saying "cuh! He thinks he's too good for the likes of us."
Anyone want to volunteer to cover Kate's big day? Tell us here.
Read More
Filed Under: