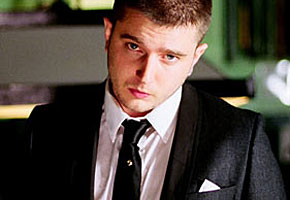 In an act of transatlantic friendship and brotherhood that would startle anyone who doesn't regularly read this blog, Matthew Morrison — the man who plays Mr. Schue in Glee — has been telling the UK press what a fan he is of Plan B, the uncompromising rapper-with-a-guitar who hit paydirt squeezing himself into a sharp suit and singing like Smokey Robinson (if Smokey was ever the door-man in a provincial nightclub in Essex).
And what's most surprising (and heartening) of all, Plan B has returned the love, with knobs on.
He told the Daily Star: "I'm kind of shocked Matthew said that but I'd be totally up for it.
"I don't normally watch TV 'cos I'm so busy but I've seen Glee a few times and think it's pretty cool. I think [2010's The Defamation of Strickland Banks] is the kind of album that could lend itself well to that."
"I think the producers would be able to use that one 'cos they couldn't use stuff from my first album or my next one."
He went on to explain that the third Plan B album, The Ballad of Belmarsh is taking shape, and promises to be a much darker affair all round, now that his excursion into soulful crooning has come to an end.
He said: "It is sounding hard and pretty heavy. It's very different from Strickland but it's got the label's backing. I've been in my studio day and night for the past couple of weeks trying to get it wrapped up.
"I only have a few more days to finish it. Then I'm off to America next week for six weeks. The only real interaction I've had with another being is with my cat Delroy, who's been in the studio with me."
Lemme guess, he lets you know when you've done a purr-fect take, right?
Back to rap, or sticking with soul: which Plan B would you prefer? Tell us here.
Read More
Filed Under: