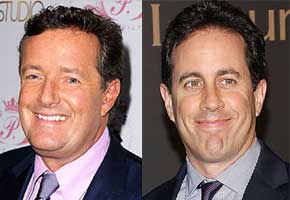 Hey, Jerry Seinfeld! Piers Morgan thinks you may have lost that lovin' feeling.
As you might recall, the famed American comedian was full of piss and vinegar when asked about the upcoming royal wedding last week. During an appearance on British morning chat show, Daybreak, he called it "a circus act" and also referred to the Royal Family as "a huge game of pretend."
Morgan has suggested that Seinfeld may be dealing with some classic green-eyed envy.
"He's just jealous because he doesn't have a royal family in this country. He wants one," the 46-year-old CNN personality recently told Access Hollywood. "He's obviously lost all touch with his romantic side."
Awww, Jerry, c'mon. Can you find it in your heart to turn an ear to ol' Piers for a moment?
Read More
Filed Under: