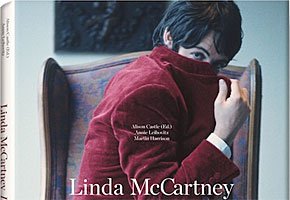 The late great Linda McCartney's pioneering rock photography — no flash, natural light, comfortable subject — is being celebrated in a new book which has been put together by her husband Paul (who apparently used to be in some band or other) and their children, with a little help from the equally great Annie Leibovitz.
Linda McCartney: Life In Photographs hits the shops today, and features some of Linda's best-known pictures of some of the brightest stars in the '60s firmament: Aretha Franklin, Jimi Hendrix, Bob Dylan, Janis Joplin, Simon & Garfunkel, the Who, the Doors, the Grateful Dead, that Paul fella again, and his bandmates…
What's startling is that her career as a pioneering music photographer only lasted a few short years. She got her big break taking some shots of the Rolling Stones aboard a yacht on the Hudson river in 1966. By 1968 she was the first woman to have a photograph grace the cover of Rolling Stone magazine — Eric Clapton, since you ask. But by the early '70s she had thrown her lot in with Paul's new band (something to do with feathers?) and was concentrating more on raising a family. Before long she was known more for the music and the animal rights activism than the photographs.
Not that she ever stopped taking the pictures, as her later candid shots of Stevie Wonder in the studio or portraits of Gilbert and George prove. In fact her archive contains some 200,000 images, and that's on proper film, not some memory card.
In a press release to support the book, Paul speaks with great warmth and affection about his late wife's work: "From the early days, I have very much admired her photography and, being able to experience it personally only added to my feelings of admiration. In those days, it was quite unusual for a woman photographer to be working on her own in photography and, in many ways, I know she has inspired a large number of female photographers who followed in her footsteps."
"In trying to answer the question 'Who was the most important photographer covering the sixties' rock and roll music scene?' I can think of no one else whose work was so comprehensive and who captured the essence better than Linda."
The essence, Paul, and one of the key players. I just wish I could remember the name of his band.
Will you be having a look at Linda's pics? Tell us here.
Read More
Filed Under: