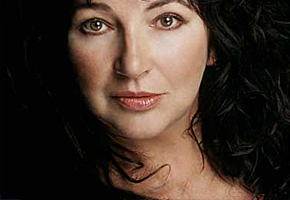 OK, this is gonna hurt. You know that autotune noise that gets used on a lot of nowadays pop songs? The one where it sounds like a human throat has been replaced with a pox of gargling molten rubber? Well, it seems that Kate Bush has taken a fancy to it.
Now, as we all know, Kate is not above making her voice sound deliberately strange in order to tell a story: the whole of "Wuthering Heights" is proof of that. Still, it's a little unsettling to hear those robo-tones in the middle of her new single, an update of 1989's "Deeper Understanding" (which originally featured glassy vocoder harmonies).
In the context of the song — which is the tale of a lonely computer programmer developing a very human relationship with their computer — it makes perfect sense, of course. Have a listen. But don't blame us if you wonder why a drunken Black Eyed Peas have suddenly taken over:
Twitter responses have been quick and predictably varied, as we reported yesterday.
Apparently there's a video coming soon, which features Noel Fielding of The Mighty Boosh, Robbie Coltrane, Frances Barber, and Kate's son Albert Bush.
That's not the only change we can expect to hear on Kate's forthcoming album of re-worked old songs. "Director's Cut" will also feature "Flower of the Mountain", a revamped version of 1989's "The Sensual World," with lyrics taken from James Joyce's Ulysses.
Kate had originally written the song using Joyce's words, but had been refused permission to use them by the author's estate. Thankfully, that ban has now been lifted.
She told BBC News: "When I came to work on this project I thought I would ask for permission again and this time they said yes."
"I am delighted I have had the chance to fulfil the original concept."
The full track-listing of "Director's Cut", which is out in May, is as follows:
Flower of the Mountain
Song of Solomon
Deeper Understanding
Lily
Red Shoes
This Woman's Work
Moments of Pleasure
Never Be Mine
Top of the City
And So Is Love
Rubberband Girl
Oh, and there'll be a brand new Kate Bush album out in the not-too-distant future too.
Has "Deeper Understanding" whet your appetite for the rest of the album? Tell us here.
Read More
Filed Under: