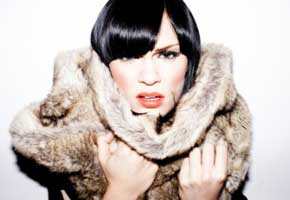 She is inescapable, that Jessie J. And today (April 12), the English pop maven finally brings her UK chart-topping debut, Who You Are, to the States.
While her first single, "Do It Like a Dude," tilted on the bawdy side, Jessie J is the girl who helped pen the Miley Cyrus blockbuster, "Party in the U.S.A." She isn't lacking an insensitivity chip, I don't think. The 23-year-old "Price Tag" singer recently elaborated on her overall positive outlook and how she only wants to "bring a little light to the world" to MTV.
"For me, I love being an influential role model, especially with young people who feel like they don't know who they are and aren't comfortable in their own skin," Jessie J said. "I've kind of had to fast-forward and go, 'I don't care if I look stupid.' You have to believe in yourself before anyone else can believe in you."
She added: "I had to struggle as everybody does. Everyone has their own struggle. The last six years haven't been easy [as I was trying to put this album out]. You have to find opportunity. I think, for me, empowering songs stand the test of time. They never get old. It's something you always need. Everyone needs a lift. I just hope that I can bring a little light to the world."
Jessie J also took to The Today Show earlier today to perform "L.O.V.E." during the Toyota Concert Series segment. Bring it, girl!
Visit msnbc.com for breaking news, world news, and news about the economy
In other music news:
The lads in Elbow also release the physical CD version of their fifth studio album, Build a Rocket Boys!, stateside today. Stay tuned for an interview with bassist Pete Turner later this week. In the meantime, please enjoy "Neat Little Rows":
• Who has the most downloaded album — OF ALL TIME — on Amazon UK? The honor goes to Adele and her flawless second album, 21. Other Brits who made the cut include Mumford & Sons, Take That, and Florence and the Machine. (The Sunday Mirror)
• Former Smiths guitarist Johnny Marr has left The Cribs after four years. It's time to focus on the solo stuff (and maybe his long-awaited autobiography?). But according to the brothers Jarman, the group's studio efforts "weren't really working". (NME)
• In a previous music roundup, we told ya that Dave Davies would like to see The Kinks back together. It sounds like Ray Davies fancies the idea as well. The two are slated to chat (er, hopefully patch things up) sometime next week. (Rolling Stone)
• London rockers The Duke Spirit recently put a sultry spin on Robyn's intoxicating club hit "Dancing On My Own." Oh, Liela Moss, we heart you! (Billboard)
• On Saturday (April 16), Radiohead's Ed O'Brien is set to share his sports expertise on BBC Radio 5's Fighting Talk show. Longtime BBC Radio personality Steve Lamacq, Fun Lovin' Criminals' Huey Morgan and English footballer Dion Dublin will also be on hand. This should be quite entertaining. (Digital Spy)
• Um, this could very cool or very, very weird. Sir Paul McCartney is making a covers album, which will draw from both his own solo stuff and the Wings catalog. Billy Joel and KISS are helping out (whoa!) and Macca's son, James, is too. The younger McCartney is apparently teaming up with The Cure for one tune. Hey Paul, whatever you do, don't mess with "Jet." (The Sun)
• Fantastic news! Tom Vek is back! The London-born indie musician will drop his first album in six years, Leisure Seizure, some time this year, and its first single, "A Chore," arrives next Monday (April 18). BBC Radio 1's Zane Lowe took to Twitter earlier this week to share that Vek's new stuff "sounds great." Glad to hear it! I still obsess his song, "I Ain't Saying My Goodbye's" (NME)
• PJ Harvey stopped by Conan on Monday (April 11) for a lovely performance of "The Last Living Rose," one of the many stunners featured on her latest album, Let England Shake.
Read More
Filed Under: