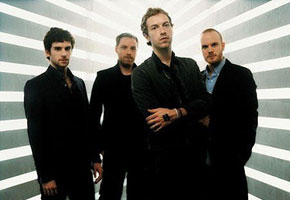 With Coachella already done and Bonnaroo and Glastonbury set to go, rabid music lovers looking to sweat it out at yet another summer music festival can now look ahead to Lollapalooza.
Now in its 20th year, the three-day fiesta will once again take over Chicago's Grant Park August 5 through August 7. And leading the list of UK performers are Coldplay, Muse, Arctic Monkeys, and a recently reunited Big Audio Dynamite. Also on the bill? British-American blues-rock duo The Kills, Noah and the Whale, Ellie Goulding, White Lies, and Sound of 2011 nominees The Vaccines, among many others. Here's hoping Tinie Tempah checks a map prior to taking the stage, unlike his recent stop at Coachella.
Eminem, Foo Fighters, Cee Lo Green and My Morning Jacket top the American lineup.
In other music news:
• PJ Harvey's latest LP, Let England Shake, is surely one of the year's best. But as far as a follow-up goes, the English singer/songwriter says she's not one to rush. Taking her time is absolutely crucial. "If it takes 10 years then I would rather wait and know that I felt each piece was strong than feel that it was time to put something out but five pieces are a bit weak." (The Guardian)
• Monday's birthday boy, Erasure singer Andy Bell reveals his most favorite 13 albums. A few acts who made the list: the late Kirsty MacColl, Siouxsie & the Banshees, and Kate Bush. (The Quietus)
• Speaking of dear Kate Bush, the English songstress' video for the recently reworked "Deeper Understanding" was released via YouTube this week. As previously reported, the short film features a UK cast with Robbie Coltrane, Frances Barber and Noel Fielding. I have to say KT's spin on society's obsession with the Internet and technology is pretty darn eerie. What do you think?
• How about this for crazy? Rapper Busta Rhymes will team up with X Factor star Cher Lloyd to bring some serious "Flava to Ya Ear" on one track included on her forthcoming debut album. Um, woo hah? (The Sun)
• You can now call U2's Larry Mullen Jr. an actor. The Grammy-winning drummer's first part comes in the reboot of the 2002 French drama, Man on the Train. Mullen plays The Thief to Donald Sutherland's The Professor. The Mary McGuckian-directed (This is the Sea, The Bridge of San Luis Rey) film will debut in Cannes in May. Eat your heart out Bono! (BBC News)
• Kasabian will drop their long-awaited fourth album in October. There's no word if frontman Tom Meighan will draw influence from his Walk Like a Panther character. Heh. (This is Leicestershire)
• Cerys Matthews spent the bulk of the '90s creating a ruckus with the Welsh alt-rock band Catatonia. Prior to disbanding in 2001, they went on to release four studio albums, including the chart-topping International Velvet (1998) and Equally Cursed and Blessed (1999). Since then, Ms. Cerys has gone on to carve out a nice little solo career and her next set will be Explorer, which arrives next month. Find out what else she's been up to and how she accidentally drove over her acoustic Gibson guitar. Eeek! (The Daily Telegraph)
• Also out in May (May 8 to be exact) in the UK is "Illuminated," the fifth single from the Manchester synth-pop duo Hurts and their critically-acclaimed debut, Happiness. Unfortunately for U.S. fans, we're not able to view its new video. Only the Brits have that luxury… for now. (Digital Spy)
• We are so saddened about the passing of X-Ray Spex's Poly Styrene. The English punk trailblazer's first album in three decades, Generation Indigo, is released in the U.S. today (April 26). A fantastic track-by-track preview featuring the lovely Poly is featured below. RIP.
Read More
Filed Under: