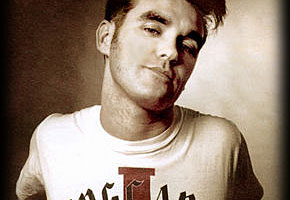 If you've been caught up in the romance and pageantry of the Royal Wedding this week, you may find some of the opinions expressed within this news item a little challenging. Try to think of them as a cleansing astringent, or a sorbet to clean the palate. That should help.
The singer Morrissey is not a fan of the royals. This we know from even the briefest listen to the Smiths song "The Queen Is Dead," or a read of any of his interviews. So it should not come as much of a shock to find out that he won't be tuning in on Friday morning to see William and Kate tie the knot.
Talking to BBC Radio 5 Live, he said: "Why would I watch the wedding? Why would I watch it? I couldn't take any of that seriously."
"I don't think the so-called Royal Family speak for England now and I don't think England needs them. I do seriously believe that they are benefit scroungers and nothing else. I don't believe they serve any purpose whatsoever."
And he clearly feels he is speaking on behalf of a sizeable constituency: "Go out now and speak to people on the street and they will laugh at you. They really will."
Depends which street and when, surely?
Is Moz right? Tell us here.
Read More
Filed Under: