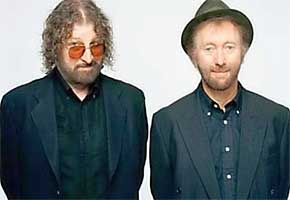 Some cultural institutions are a little tricky to explain in one go, you kind of have to live through them to understand why they're important and why they happened. So if I tell you that there was a duo in the early '80s called Chas & Dave, and that they specialised in cockney singalong hits, with lyrics that were largely impenetrable to anyone not from the British Isles, and that they remain a much loved British institution, you'll just have to trust me.
If I then go on to reveal that both men have a history as session musicians that saw Chas working with Jerry Lee Lewis, and legendary producer Joe Meek (of "Telstar" fame); and that both men appeared on the Labi Siffre album track "I Got The," which was later sampled by Dr Dre for Eminem's "My Name Is;" well that might seem a bit unlikely. But it's all true.
Take it from me then, when Chas Hodges says he thinks the Arctic Monkeys might be influenced by his decision to sing in his North London accent, rather than going the transatlantic route…well he may just have a point (although it's John Cooper Clarke that Alex Turner really owes a pint to).
Chas told the Norwich Evening News that the whole singalong cockney thing came about very naturally: "The idea of singing like this came when I was on tour in America and singing with an American accent. I felt a fraud and so came back to England and met with Dave with the idea of songs in my own accent."
"You can hear from my voice I'm not putting any of it on."
He went on: "I love someone like the Arctic Monkeys who do the same with a Sheffield accent. Maybe they're taking a leaf out of our book."
Well let's have a look, shall we? Here's Chas & Dave performing their hit single (HIT SINGLE, NO LESS) "Rabbit" in 1981.
And here are those Arctic Monkeys singing "Mardy Bum."
(Note: "mardy bum" is Yorkshire slang for "grumpyguts.")
I've baffled you now, haven't I? Try not to worry, Britain can be a very strange place sometimes.
Chas & Dave then, great or grating? Tell us here.
Read More
Filed Under: