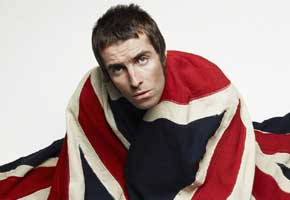 Beady Eye's rollicking debut album, Different Gear, Still Speeding, may have just dropped in the U.S. in March, but it sounds like Liam Gallagher and Co. are keen to release a fresh set of tunes before the year's end.
"The other big difference here is that we're not going to put the ball down, sit around in a big house and go 'we're great'," Gallagher told the Irish Times in reference to the Oasis days. "We won't be booking into the studio for months and months on end. We're not going to be rolling over this album into the next year. There will be an awesome second album coming soon. We're responsible for our every move. We're on our own label. We do all our own artwork and videos. It's not like, 'Oh, send that off to the visual arts person'."
He added: "What really did for Oasis was that we took our eye off the ball. We were too busy reaping the rewards of our success. I know now that money is not the precious thing when you're in a band. It's not the flash cars or the big houses — it's the music that's precious. Once you take your eye off that — which we did — it's hard to get back. It got all 'just put the private plane on the credit card.' We're keeping a lid on things now. The band hasn't made a penny yet but we know what's important."
Wow! Has Liam mellowed a bit in his old age? He even went on to say that he's "more chilled now" and that he doesn't see himself as "the look-at-me-I'm-the-big-bollocks walking around town." Perhaps rocking out to Rod Stewart before shows and embracing his "spiritual" side has something to do with all that?
Here's "Millionaire," the second single from Different Gear, Still Speeding, for your Thursday morning. Enjoy!
Read More
Filed Under: