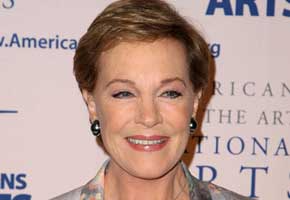 There is just no stopping Dame Julie Andrews. The 75-year-old British actress, who's collected a host of awards, including several Golden Globes plus an Oscar throughout her five-plus decades in the entertainment business, always seems to have something in the works.
And coming up next for Andrews is a musical adaptation based on her and her daughter, Emma Walton Hamilton's 2006 book, The Great American Mousical.
"We are in fact adapting it for the good people of the Goodspeed Opera House [in Connecticut]," Andrews recently told the Los Angeles Times. The best-selling story captures "a troupe of theatrical mice below the boards of a very famous Broadway theater."
Andrews also explained that she's looking to further test her skills as a director. In 2003, Andrews served as the theater director for a revival of The Boy Friend in Sag Harbor, New York. Its original production was penned by English composer Sandy Wilson and gave Andrews her Broadway start in 1954.
"If someone gave me the opportunity to produce, of course I'd do that," Andrews said. "But I'm interested in flexing my muscles a little bit to see if what I love, which is directing, if I could get used to more of that. I loved doing it, and it felt like a way of giving back to younger talent. I directed 'The Boy Friend' twice."
What else is in store for the lovely Dame Julie? She went on to say that a few other directorial projects are in her "vest pocket," while her next book, The Very Fairy Princess Takes the Stage, will be out soon [May 3 to be exact]. Perhaps she'll fit Glee in there… somewhere.
Read More
Filed Under: