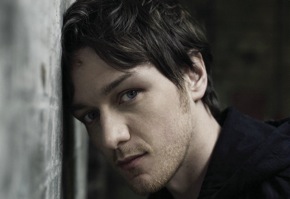 I keep waiting for James McAvoy to become a gargantuan star. After Atonement, I fully expected the Scottish-born actor to turn up on the cover of People magazine's annual Sexiest Man Alive issue. With those baby blues, how could he miss?
Now, four years and three movies later – his latest, The Conspirator, a historical drama about the aftermath of President Abraham Lincoln's assassination in 1865, opens today – I'm thinking he's too good an actor to become a mass consumption sex symbol. And that's okay.
McAvoy, who turns 32 on April 21, comes across best playing sensitive guys. Yes, his characters can be a little brash (especially disabled wild man Rory O'Shea in 2004's Rory O'Shea Was Here), but he never projects an air of reckless bravado or smug self-confidence, the seeming prerequisites these days for rising male stars (think Bradley Cooper and Ryan Reynolds).
Right now McAvoy specializes in playing well-intentioned, idealistic young men who end up disillusioned (or even dead) when they come face to face with the harsh realities of the world.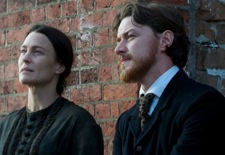 Consider his last several roles: in Atonement (2007), he played a lower-class striver who gets punished (and then killed in war) for falling for an upper-class girl. In The Last King of Scotland (2006), he's a young doctor who has a front row seat as a brutal dictator, Idi Amin, lays waste to his own country. In Becoming Jane (2007), as an impoverished suitor of Jane Austen, he learns that sometimes money trumps love. In Wanted (2008), he was a naïf who discovers that his father was secretly a professional hit man and that he's in line to be one, too. And in The Last Station (2009), he plays a worshipful youth who discovers that his literary hero, Leo Tolstoy, is an irascible, hen-pecked old coot.
In The Conspirator, McAvoy comes in for more of the same. In this dutiful historical drama directed by Robert Redford, he plays a former Union Army officer who's recruited to serve as the lawyer for a boarding house owner (Robin Wright) accused of helping to plot Lincoln's assassination. If found guilty, she faces the noose. While trying to defend the woman in a military trial, the young lawyer comes to realize that there are powerful political forces aligned against him. His opponents have no qualms, in what they consider a time of national emergency, about suspending rights guaranteed by the Constitution (the movie is more than a tad heavy-handed in underlining parallels to current terrorism trials).
McAvoy gives a carefully nuanced performance in Conspirator as a man who comes to understand that principles matter but that the cost of standing up for them can be dear. He even manages a relatively convincing American accent.
It is not, however, a role that's going to transform him into the next mega-hunk. Then again, his next movie just happens to be a little film called X-Men: First Class (opening June 3), a prequel to the earlier films in the massively popular comic book series. McAvoy has one of the plum roles, playing a young Professor Charles Xavier (the Patrick Stewart part). If the movie's any good, maybe next year he'll be People's Sexiest Mutant Alive.
What's your favorite James McAvoy movie?
X-Men: First Class trailer:
The Last King of Scotland trailer:
Wanted trailer:
Read More
Filed Under: