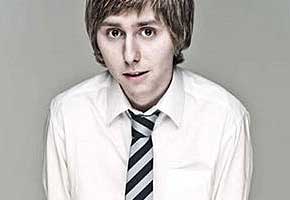 OK, this is probably not a revelation that will shock a lot of people, but it's kind of a relief all the same. Anyone watching The Inbetweeners and worrying that James Buckley the actor might share some common traits with his character Jay, the mop-topped, foul-mouthed sexaholic fantasist, need worry no more. He's a very different person.
So much so that he could never bear to watch the show with his parents. Not that you have to be in The Inbetweeners to find it an uncomfortable watch with your ma and pa.
Thankfully, for the Buckley household, James's role in the BBC's Rock and Chips, where he plays a younger version of a great British comedy institution, Del Boy Trotter (from Only Fools And Horses, if you're not familiar), is a very different story.
He explained to Buzz (via Digital Spy): "It was really nice to sit down and watch Rock and Chips with them. I never really watched The Inbetweeners with my parents."
And while he can see some similarities between the two characters — not least in the poetic license department — James is quick to point out why he feels more comfortable watching himself play Del.
He said: "Both Del and Jay are always trying to get their leg over with women… I think that Del Boy is a nicer and more likeable person, though. He has genuine charm, whereas Jay is just… Jay."
You can take the enjoyment of a character too far, mind.
"I keep saying 'lovely-jubbly' to people… I have to keep telling myself to stop saying it!"
Yes. Seriously. STOP. And while you're at it, why not watch something on your mum's TV that doesn't have you in it?
Who's better, Jay or Del Boy? Tell us here.
Read More
Filed Under: