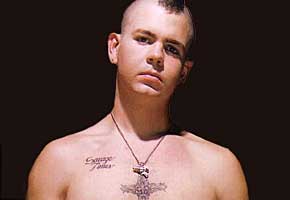 There's a saying that the apple doesn't fall too far from the tree, but some apples seem to want to climb back up and re-glue themselves to the branches for all time.
Like Jack Osbourne, who in all fairness did attempt to turn his sudden notoriety with The Osbournes into a separate TV career for himself, before returning to the family business.
He recently worked as co-producer on a concert documentary, and general career overview for a veteran heavy metal singer who's still banging away after years and years on the road. Can you guess who?
Yup, when you see God Bless Ozzy Osbourne, you're watching a Jack Osbourne co-production. And now he's moving on to direct a new horror movie, with his co-producer Marc Weingarten, and do you know what that's called?
Black Sabbath.
No, really. Black Sabbath.
Apparently it's similar to an aborted movie project of the same name that Black Sabbath guitarist Tony Iommi was involved in soundtracking. But it possibly will not be a remake of the original film Black Sabbath, from which the band Black Sabbath took their name.
Marc told Empire magazine: "Jack and I are about to do a horror movie called Black Sabbath so there's some connective tissue there."
SOME? Uh.. OK, so what you're saying is the only connection really is the title of the film, right? I mean it's not as if you're using Black Sabbath songs in the mov… oh:
"Just the music of Black Sabbath is in the movie, but it's not about the band."
Oh well that's OK then. Otherwise it would've looked a bit iffy, y'know?
Too harsh? Tell us off here.
Read More
Filed Under: