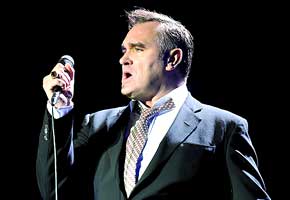 Wahoo! It looks Britain's celebrated Glastonbury Music Festival is going to be another splendid three-day extravaganza this June! It's totally sold out and there 150-plus acts and 10-stages. Are. You. READY?
Kicking things off at Worthy Farm in Somerset, England on Friday (June 24) will be U2, Primal Scream, Mumford & Sons, and Anglophenia favorite, Morrissey. It'll be the Mozzer's first Glasto appearance in seven years. And as we previously reported, U2 guitarist The Edge teased the Grammy-winning foursome's appearance during the Shockwaves NME Awards in February.
Joining Coldplay — whose Pyramid Stage spot was also confirmed in February — for Saturday's lineup (June 25) will be Elbow, Tinie Tempah, indie pop folkies Stornoway, and Professor Green (and loads more, of course!) To my pleasant surprise, Scottish pop/rock outfit Deacon Blue will headline the Acoustic Stage. Their 1992 college radio hit, "Your Town," is a total classic!
And like we told ya already, R&B goddess Beyoncé will close things out on Sunday (June 26), followed by Plan B, The Streets, Queens of the Stone Age, Kaiser Chiefs and plenty more. Fingers crossed that her BFF Chris Martin shows up for a surprise duet.
For the complete lineup and more on the 2011 installment, check out Glastonbury's official site.
Are you going to Glastonbury this summer?
Read More
Filed Under: