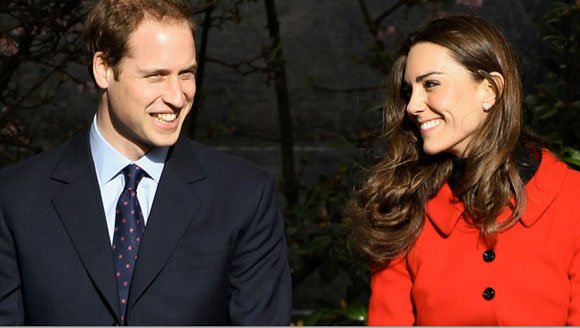 From sun-up to sundown and beyond, Kate Middleton can expect a long, exhausting day tomorrow (April 29). Every moment must be scheduled with rocket launch precision. Brides Magazine editor-in-chief Millie Martini Bratten takes a look at how these frenzied hours might progress for Kate behind-the-scenes. (Bratten will join Royal Wedding Insider at 3 am ET tomorrow for live blog coverage of Prince William and Kate Middleton's nuptials.)
Every wedding needs a timeline, but when nearly two billion people will be watching the proceedings, things need to be extra buttoned up. Planning out these day-of details — and figuring out how long certain tasks will take — is a surefire way to make sure you get to the church on time, and everything goes off without a hitch. If that church happens to be Westminster Abbey and your name happens to be Kate Middleton, your schedule the morning of April 29, might look something like this:
5:30 am – Time to wake up and get ready for the dream to become a reality. A light, protein-rich breakfast will get a long day off to a steady start.
Chances are, Kate slept well, knowing a small army of assistants is tending to every last detail. But if not, chilled cucumber slices are the perfect antidote for puffy eyes.
6:40 am – Time to get the trial hairdo done for real.  Leave a little extra time – this style is sure to be scrutinized and replicated by future brides-to-be for years to come.
We're betting her 'do will be less carefree than her normal look and includes a major tiara.
7:15 am – London's finest makeup artists arrive to get Kate's bridesmaids, the Maid of Honor, and the Mother of the Bride camera ready. (Kate reportedly insists on doing her own makeup.)
Kate might want to budget a little extra time for this step, given the thousands of camera lenses that will be pointed her way.
8:15 am – Guests begin to arrive at Westminster Abbey.
If you're one of the 1,900 who made the cut, don't bother bringing a cell phone, and be ready to check your camera at the door.
9:00 am – Florists deliver the wedding party's bouquets and Kate gets to see hers for the first time.
Look for her bouquet to include myrtle, or the "herb of love," which is traditional in royal weddings dating back to Queen Victoria.
9:30 am – Time to slip into the dress!
Stepping in feet-first and pulling it up around you minimizes potential makeup smudges and updo mishaps.
9:55 am – Text Will… just to make sure he's on the way and has the ring 😉
Not leaving anything to chance with Best Man Harry.
10:40 am – Royal family will arrive and take their seats.
With all of the hush-hush about Kate's dress, you better believe she won't let Wills catch a glimpse before she walks down the aisle.
10:51 am – Everyone loads into the Rolls Royce for the drive to the Church.
Since she is not of royal lineage, Kate has chosen to arrive in a car, instead of a carriage. The privacy gives her one last chance to touch up her makeup and the chance to take a few long, slow, deep breaths.
11:00 am – Flower girls, bridesmaids, and Maid of Honor, Pippa, will enter the church. Steadied by her father, Kate begins her walk to will walk down the aisle.
More deep breaths all around. The event will certainly start on time as the palace keeps to a tight schedule, so Kate will forego being fashionably late to her own wedding.
12:00 pm – After acing the 'I Do's and getting the name order right ("I take thee, William Arthur, Philip Louis" to be my husband…") the ceremony concludes and Kate and William drive through the streets of London in a centuries-old carriage to Buckingham Palace for the eagerly-anticipated kiss on the balcony.
Kate, no doubt, has practiced – and perfected – the "royal wave" for just this moment.
12:05 pm – Pippa will need to remember to hand Kate's bouquet over to be placed at the grave of the Unknown Warrior at Westminster Abbey.
This tradition began in 1923 with Queen Elizabeth and her marriage to King George VI.
1:00 pm – The wedding breakfast begins. Kate and Wills make the rounds to greet their international guests, which, likely, will take a few hours.
Mini sandwiches are perfect for guests who'll be milling around (though we hear the Queen favors tonic water and crackers).
After 1:30 pm – The newlywed couple sneaks off for some downtime together, away from the fray.
And maybe to quickly update their status on the royal Twitter feed?
6:15 pm – Hair and makeup redo in Kate's chambers, before the after-party (a Royal first!) begins.
An evening gown designed by one of Kate's favorite designers will continue the trend of wearing two dresses on the wedding day – one for the ceremony, another for the party.  Like a celebrity on Oscar night, Kate's got a few choices at the ready and may make her decision at the very last minute.
7:00 pm – Reception begins
Kate and Will won't have a long way to travel since the reception is at Buckingham Palace. Normally BRIDES magazine would discourage having such a long gap in the time between the ceremony and reception, but we'll make an exception here.
11:00 pm – Cake-cutting ceremony
Since William is a member of the Armed Forces, the first slice will be made with a sword held by both the bride and groom. Expect see a traditional fruitcake, too.
When will the party end? The Palace decrees the party will finish when it will finish. For a Monarchy known for its love of structure, we say hurray to that!
– Millie Martini Bratten
Read More
Filed Under: