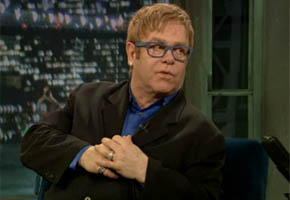 Hey, to all the Glee haters out there, Sir Elton John has a message for ya: "Lighten Up."
On Thursday (March 31), the Grammy-winning singer/songwriter had a bit to say about Fox's celebrated musical dramedy when visiting Late Night with Jimmy Fallon. There's been much speculation that the 64-year-old Glee fan might appear on the show sometime next season. He's reportedly said he wants on and Matthew Morrison definitely approves. Anyhow, John wasn't coy in calling out one particular band for the anti-gleek stance: Kings of Leon.
"There's a big debate going on about the 'Glee' thing at the moment," John told host Jimmy Fallon. "A lot of bands say they don't want their stuff on 'Glee.' It's like, 'Lighten up, you a**holes.'"
He added: "This is a compliment, also it sends a positive message out. What the hell is wrong with, you guys? 'Oh, we don't want our music played.' Well, Kings of Leon, lighten up guys, c'mon. Listen, when someone wants to do your song, it's a compliment."
John also chatted some about his upcoming Saturday Night Live appearance. Have you seen his promos with Jason Sudeikis and Kristen Wiig? They're heeelarious! Anyhow below, John gushes about his rock 'n' roll comrade Leon Russell, who will be joining him in song on SNL tomorrow (April 2).
Read More
Filed Under: