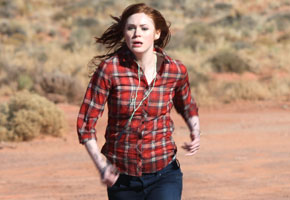 • POTENTIAL SPOILER ALERT: It is just us or is the Doctor Who cast dropping season six hints like naughty dentists handing out free candy? Anyhow, this little quote from Karen Gillan to MTV News has left us all pondering. It seems all is not well in the state of Amy and Rory's marriage:
"At the end of the last series of Doctor Who, we saw Amy get married, which was a long-running story arc… It seems kind of fairly settled that now's there going to be this trio of people in the Tardis."
"It's interesting to see the affect that marriage has had on all three of the main characters and also it helps define Amy's relationship with The Doctor. Something's going to happen to do with this marriage that's going to change the course of everything in this series."
And no, it's probably not Rory (played by Arthur Darvill) forgetting to put the toilet seat down.
• Have you ever thought about the Time Lord being a woman? SFX magazine recently conducted a poll entitled "Who would make the best first female Doctor Who." Topping the list was Oscar-nominated King's Speech star Helena Bonham Carter, while Tamsin Greig (who appeared in the 2005 episode, "The Long Game"), Emma Thompson, Keeley Hawes of Ashes to Ashes fame, and Harry Potter's Emma Watson rounded out the Top 5. Oddly enough, Lady Gaga was voted in at 17th place.
• Doctor Who is No. 2 on Entertainment Weekly's Must List for this week!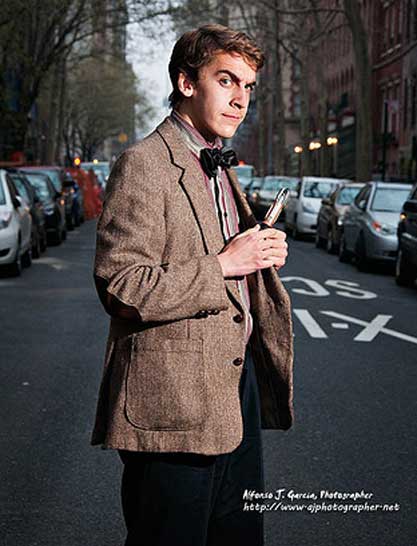 • Texas native Alfonso J. Garcia has been a Doctor Who fan for over two decades. Nyssa of Traken is his favorite companion ("I just liked how intelligent she was," he says), while Peter Davison was the first Time Lord he started watching. Most recently, Garcia, a budding photographer, started taking his own Doctor Who portraits. These are SO COOL, you guys! Just check out the one to the right. Pretty spot on, right? For more of his Doctor Who impressions as well as his own snaps from last week's NYC screening, check out his Flickr page.
• We thought The Silence was mega scary, but Karen Gillan finds her co-star Matt Smith much more frightening.
• Speaking of frightening, Cambridge University scholar Dr. Robin Bunce has a theory that Daleks represent "the nightmare future we dread." Would you agree?
• Four stylish New York City gals sure love Matt Smith. So much in fact, they've written a cute indie rock tune in his honor. Get the lyrics and ukulele chords at Meanwhile in America
• If you're looking for an entertaining way to bide your time in the days leading up to the season 6 premiere, perhaps some Doctor Who figurines might do the trick. There's a new set featuring all 11 Time Lords. Plus, get your hands on the Villains collection. Both are new to the BBC America Shop.
• If you've a Whovian in your life and you're stuck for birthday present ideas, you could do worse than get them the forthcoming BBC book Doctor Who Monster Miscellany. As the title suggests, it's an encyclopedia of the various aggressive alien life forms the Doctor has encountered on his travels, and answers questions like which is the tallest alien? Who has the Doctor battled the most? What percentage of monsters are metallic?
Best of all, your Whovian friend will undoubtedly discover some tiny omission or flaw with the book, and will feel amazingly happy for the rest of their special day. It's a perfect gift!
• The BBC have launched a Doctor Who attraction called The Doctor Who Experience in London's Olympia 2, and to publicize it, they've put up some very Gallifriendly road signs, including Dalek warnings and a Tardis landing area (so says via SFX). Sadly there isn't one that reads "Please keep quiet, Davros is thinking…"
• When did Snoopy go Dalek?
• We've all looked at David Tennant's grinning face and wondered what it might be like to lick, right? No? Well, even if we haven't, the chance has now become a reality, with the Royal Mail issuing a new range of stamps aimed at commemorating 50 years of the Royal Shakespeare Company. Among the notable performances shown on the stamps are Sir Ian McKellen's Romeo and Juliet from 1976, and David's Hamlet from 2008. Mmm! Tasty! (via Contact Music)
Read More
Filed Under: