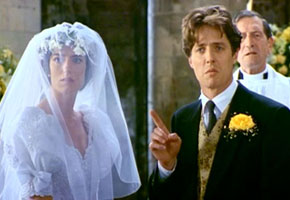 Unlike Prince William and Kate Middleton, few young British couples get married in Westminster Abbey, clad in a military uniform and designer gown, and arriving at the ceremony via horse drawn carriage. Not by a long shot.
We don't have the resources here at Anglophenia to investigate the circumstances of all 231,490 marriage ceremonies that took place in England and Wales in 2009 – the most recent year for which statistics are available – so we're opting instead to examine the vast diversity of the nation's weddings by checking out recent British movies in which nuptials are a central plot point.
The top tier of the cake for such wedding films is reserved for the oldest title, 1994's Four Weddings and a Funeral. In this delightfully witty romantic comedy, which turned English charmer Hugh Grant into an international star, a group of close friends (including Kristin Scott Thomas and Simon Callow) attend each of the five titular events. Weddings on view include a Scottish ceremony, complete with a bagpiper, and an excessively treacly affair where guests in the pews must endure syrupy chirping by possibly the worst folk duo ever. Our favorite moment: Rowan Atkinson, as a stumble-tongued minister, mangling the exchange of vows during one wedding as he refers to "The Holy Goat" (for Holy Ghost), "The Holy Spigot" (for Holy Spirit), and "your awful wedded wife" (for lawful wedded wife).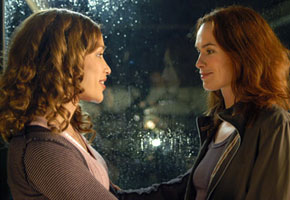 In Imagine Me & You (2005), Piper Perabo (yes, she's an American, but the movie's British) weds the appealing Malcolm Groome. Early in the movie, as she walks down the aisle at her traditional church wedding, Perabo spots the event's florist (Lena Headey) and zing goes the strings of both their hearts. The rest of this slight romantic comedy is devoted to the two women fighting their mega-attraction to each other until – spoiler alert – they don't.
Weddings don't come any messier than the two portrayed in Happily Ever Afters (2009), an Irish (geographically close enough to England to count) romantic comedy in which two about-to-be-wed couples discover that their receptions have been booked into the same venue. Soon, as the other guests bicker and drink too much, the single mother bride (Sally Hawkins) from the first couple and the groom (Tom Riley) from the second, find themselves drawn together.
For sheer silliness, check out Confetti (2005), an enjoyable mockumentary in which three engaged couples compete to win Confetti magazine's "Most Original Wedding of the Year" title. One plans to wed on a tennis court, the second in the nude, and the third hopes to turn their wedding into a Broadway-style musical. The talented comedic cast includes Martin Freeman (The Office and Sherlock), Jessica Hynes (Spaced, Doctor Who), and Alison Steadman (Gavin & Stacey). Surely, the royal couple could have lifted some ideas for an alternative wedding from this one.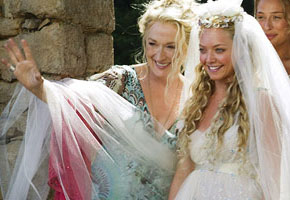 Finally, there's Mamma Mia!, a musical which began on the West End and was made into a blockbuster movie in 2008 by British director Phyllida Lloyd. A bride-to-be (Amanda Seyfried) is planning her beachside wedding (to a smoldering Dominic Cooper) on the Greek island where her bohemian mother (Meryl Streep) lives. She has also invited three men (Colin Firth, Pierce Brosnan, and Stellan Skarsgård), any one of whom could be her real father. Hijinks and plenty of ABBA songs ensue. C'mon, admit it, wouldn't you love to see Will and Kate borrow from Mamma Mia! and boogie down the aisle to "Honey, Honey" or "Take a Chance on Me?"
What's your favorite British wedding movie?
Rowan Atkinson as the addled minister in Four Weddings and a Funeral:
Imagine Me & You trailer:
Happily Ever Afters trailer:
Confetti trailer:
Mamma Mia! trailer:
Read More
Filed Under: