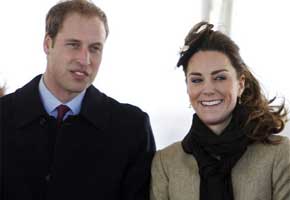 Royal watchers all over the world will be raising glasses to Prince William and Kate Middleton on April 29. But will the newlyweds provide their own toasts at their reception? If so, Brides Magazine deputy editor Sally Kilbridge offers the royal couple some pointers for their big day in this week's Brides Checklist.
At most weddings, the groom and his bride don't make a speech; that honor goes to the best man. Prince Harry seems up to the challenge, as he's hinted at a few zingers that will make his brother blush. Still, the guests at Buckingham Palace will probably be thrilled if Kate and Will mark the occasion with some well-chosen words. So time to put finger to keyboard.
Will has been around a lot of speechifying in his 29 years, and he's well aware that a rotten toast can kill a party's buzz faster than closing the bar. So while he'll want to thank the appropriate people — his grandmum, Kate's parents, and the guests who've traveled far and wide — we recommend that he focus on his bride. People are suckers for a guy who sings the praises of the woman he's just married, probably because men so rarely speak seriously about love. Bonus points if he invokes the memory of his mother in describing his new princess.
Kate's main role will be to look beautiful and not spill anything on her dress. If she does want to make a short speech — and more power to anyone with the guts to stand up in front of this crowd — she'll probably want to throw some love to her family, give Will's side a shout-out, and look adoringly at that new husband. But frankly, even the most poised of princesses would be excused for sitting this one out.
So a review of toasting etiquette for the bride: nod graciously during the speeches, keep your hands off that champagne flute (the person being toasted doesn't drink to herself), and get used to it — people will be raising their glasses to you for decades to come.
For more Brides coverage of the royal wedding, click here.
See last week's checklist: Let's give William and Kate a signature cocktail.

Read More
Filed Under: