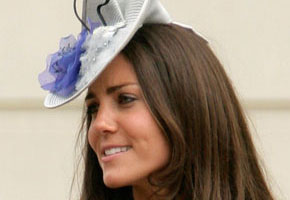 The clock's a-tickin' toward April 29. In this week's Brides Checklist, Brides Magazine deputy editor Sally Kilbridge suggests some glamorous final touches that could make Kate Middleton's wedding look truly memorable.
With a gown made from scratch, Kate's no doubt been through a dozen dress fittings. Now it's time for some final tailoring (bodice nipped in a bit, hemline smoothed), some perambulating in the dressing chamber to learn how to manage her train, and the most fun of all: trying on the accessories. The queen's personal collection of jewelry, valued at over $300,000,000, sits in a royal vault the size of a skating rink. And presumably Kate has the run of it.
Despite her alleged preference for fresh flowers instead of a headpiece, we're still picturing her in a tiara. (We can't help it! It's the fairy tale!) Our choice is the Strathmore Rose tiara, a diamond floral design, which will let Kate have her flowers and let us have our Cinderella fantasy. We see it with a grand veil flowing down her back for half a mile or so (or at least 20 feet).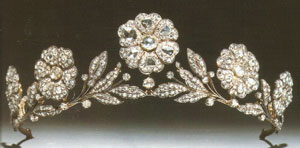 Jewelry? Perhaps a pair of significant earrings: luminous South Seas pearl teardrops or sparkly blue sapphire chandeliers to complement her engagement ring. Then again, she might emphasize her elegant neck with a strand of diamonds like the coronation necklace that belonged to the Queen Mother — with 40 fabulous rocks, it's as understated as royal jewels get. And though only queens and royal consorts have worn it in the past, we say it's time to bend the rules.
It's a tricky matter, blinging yourself out in an appropriately grand manner and still looking like a modern young woman who likes to keep things simple. Kate seems up to the job — now we just have to get up and watch.
For more Brides coverage of the royal wedding, click here.
See last week's checklist: Should William and Kate prepare a champagne toast?

Read More
Filed Under: