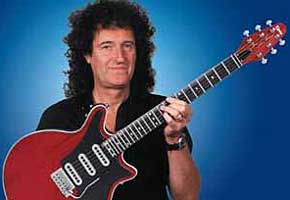 Brian May, formerly of Queen, is a ferociously talented guitarist. But for all that he invented and sustained a phenomenal level of creativity in the use of the electric guitar, with his multi-layering of harmonies and general melodic wondrousness, he is clearly not a choosy man when it comes to collaborations.
He's worked with everyone from the Foo Fighters to 5ive (don't ask, best not to) to the actual Queen herself, and does not feel the need to worry about how this will affect his profile.
In fact, Brian is so reliable in this regard that should anyone ever attempt to draft a rock remix of the Declaration of Independence, it would go something like this:
"We hold these truths to be self-evident, that all men are created equal, that they are endowed by their Creator with certain unalienable Rights, and that Brian May, when asked by anyone if he'll appear on their new song, anyone at all, will say yes."
So, it's with no surprise whatsoever that we open our papers this morning to discover that Brian has agreed to appear on a song on the forthcoming Lady Gaga album, "Born This Way." The Lady, whose stage name is taken from the Queen song "Radio Ga Ga," is something of an enormous fan, you see.
So when she was working up the song "You & I," and heard a Queenish guitar part in her mind, well, it seemed too good an opportunity to miss.
A Gaga insider (don't, you'll only make yourself feel ill) told the Mirror: "It's always been Gaga's dream to perform as Queen. If it wasn't for Queen, there would be no Gaga. This collaboration with Brian May means the world to her."
Sadly, experience teaches us that it probably does not mean the world to him; big floozy that he is.
What's your favorite Brian May moment? Tell us here.
Read More
Filed Under: